We start the journey on this gastronomic route early in the morning from home in Panagarh and includes the plan to drop our children Khushi and Bullet to their Grandparents in Kolkata while we continue with our motorcycle sojourn. The intention was to cover 3 districts today; BARDHAMAN, HUGLY and HAORA. As usual, NH2 was our lifeline with detours to GT Road on the way.
Shaktigarh

(Bardhaman)
Though famous for the Lyangcha, Sitabhog and Mihidana; the other gastronomy delights are aplenty. I chose the famous LYANGCHA BHUBAN just because of its daily turnover and was welcome by the proprietar with a broad smile. He appreciated my RE Himalayan and after the normal questions that I am used to by now, kitne Ki hai, kitna cc and kitna deti hai. ..I was treated to the breathtaking morsels of #Lyangcha#Sitabhog#Mihidana#MakhaSondesh#MilkCake#Nikhuti and topped with #BhaareCha (tea in earthen cup). Seeing my early morning appetite of Breakfast 1, I was gifted with a big packet of Cadbury Gems by the owner of the shop. It was indeed a sight with me hogging and all watching and cheering akin to Man Versus Food.
Chandannagar

(Hugly)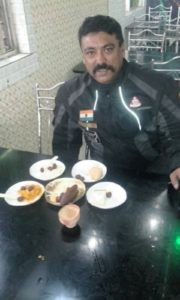 My destination was next the erstwhile French Colony of Chandannagar, famous for the French remains and mind blowing sweets. I had heard the stories how #SurjaKumarModok the legendary sweet craftsman used to cook up new sweets for Maharaja Krishnachandra (of Gopal Bhaand fame) and how Sree Ashutosh Mukhopadhyay used to buy a huge bucket of sweets from this shop while travelling towards Kolkata on a Bullock cart on the pretext of taking it for the family and finish the entire bucket en route himself. I crossed Gurap and reached the Tarakeshwar – Chuchura crossroads on NH2 and took a left turn towards Chuchura. About 28 km to reach Chandannagar and I was guided easily by localites to the shop of Surjo Kumar Modok and was treated with mishti magic. I was received graciously and was offered the De-la-grande of all #Jolbhora the legendary sweet of the shop with a pure rosewater filling. That was followed by #Rajnandini (akin to rasmalai in an earthen plate), #BabuSondesh (famous during the Babu culture of Bengal) and #Motichur (the surprise factor was that the bundi were made of chhena or cottage cheese ). I was interested to try out the #ChennaPaturi (cottage cheese baked inside banana leaf coverage ) but it was not on their menu that day. Chandannagar visit didn't end there only and I was literally force persuaded to visit the riverside French Church and the Bandstand, and honestly I am lucky that I did. The remnants of a bygone French Colonial era is still clearly visible and cherished right on on the riverbank.
Haora
From Chandannagar, I rode on crossing Bhadreshwar, Chapdani, Angus, Baidyabati along the GT Road and thereafter turned right onto the erstwhile Dilli Road. Dilli Road was under renovation and after travelling along for a few kms, I again turned right to reach NH2 near Singur. I carried on along and close to Kolkata turned left to Haora. I landed up in a nondescript hotel and restaurant #DasHotel. I ordered a portion of #Chingri (Chilli prawn) and relieved at the way it broke the monotony of my sweet after taste with the hot tangy hit on the sinus. Haora will be Eaten in details on our return journey.
Kolkata
Food in Kolkata is a different story altogether and it will take another seven days to do Kolkata Food itself which we decided to do separately altogether. But stopping at a nearby CCD and enjoying a glass of #IcedTea and #ChickenSandwich was also a food part of life .. though might not be a part of food-legacy.
Rum With Aam
The day came to an end reaching home and enjoying some #OldMonk with #AamKasundi (Green Mango with pungent mustard sauce) prepared by my MIL who indulges me in all possible food imaginable. I being a Ghoti (originally from Western part of undivided Bengal) and my wife beeing a Bangaal (originally from now-Bangladesh our home food is itself itself a cultural crossroad.
Short Break
On insistence of both my parents and parents in law, we take a short break in Kolkata and continue our journey again from Saturday morning onwards. Will head towards South 24 Pargana and East Midnapur …
#RideHard#EatWell . (To be continued )
[su_carousel source="media: 336,337,338,339,341,342,335″ height="160″ title="no"]