#From_the_road. As the sun rises in the horizon, Dada and Shwet Agni sets out for a 4 day journey… This time to mix pleasure with some professional work…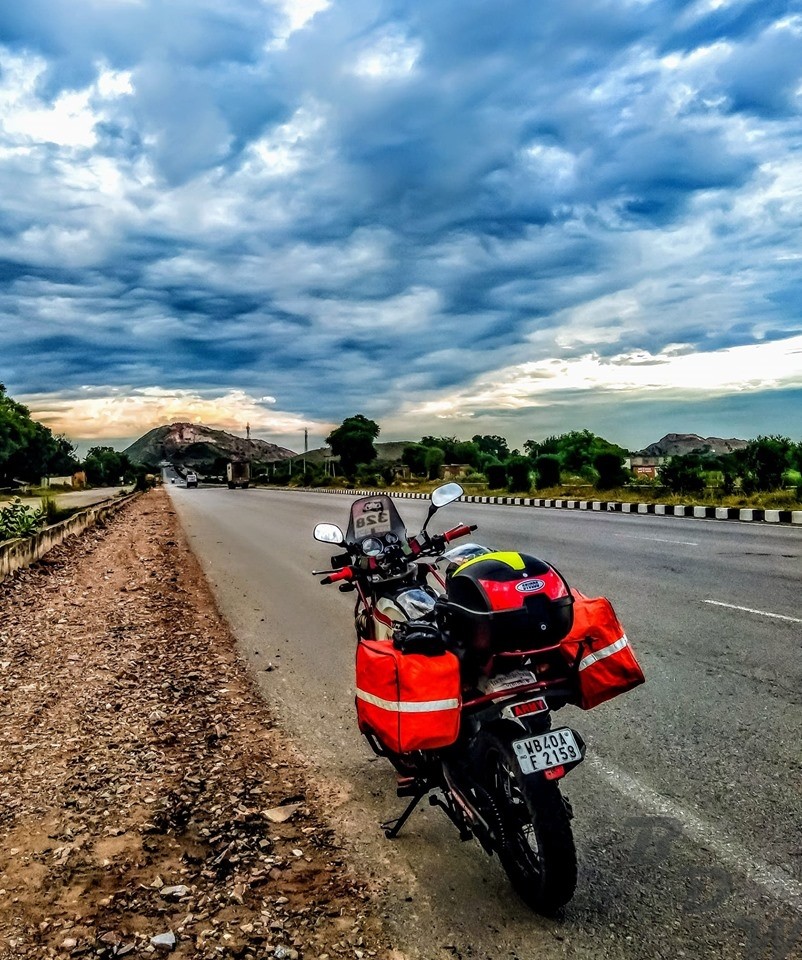 #From_the_road… This time I was determined to break the Paratha trappings (North Indian aloo, pyaaz or paneer paratha is too heavy for my age and taste, being a Bengali)… and instead opted for a South Indian favourite… Masala Dosa, sambaram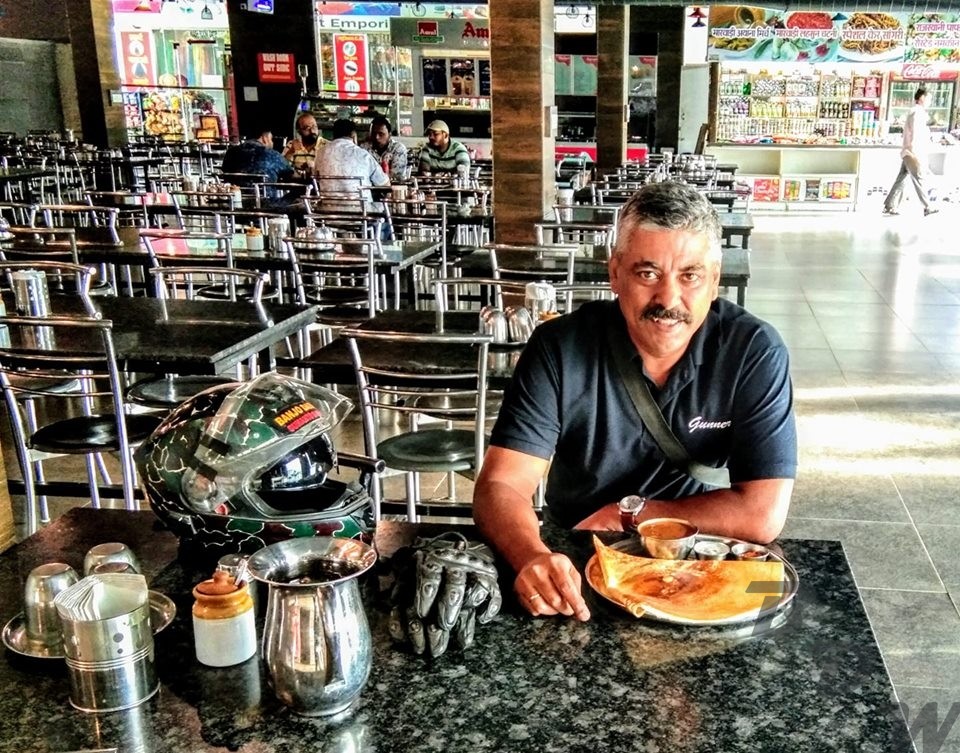 #From_the_road… Enjoying some sugary tea and #gurgura with the Haryana village elders…. goor-goor-goor-goor..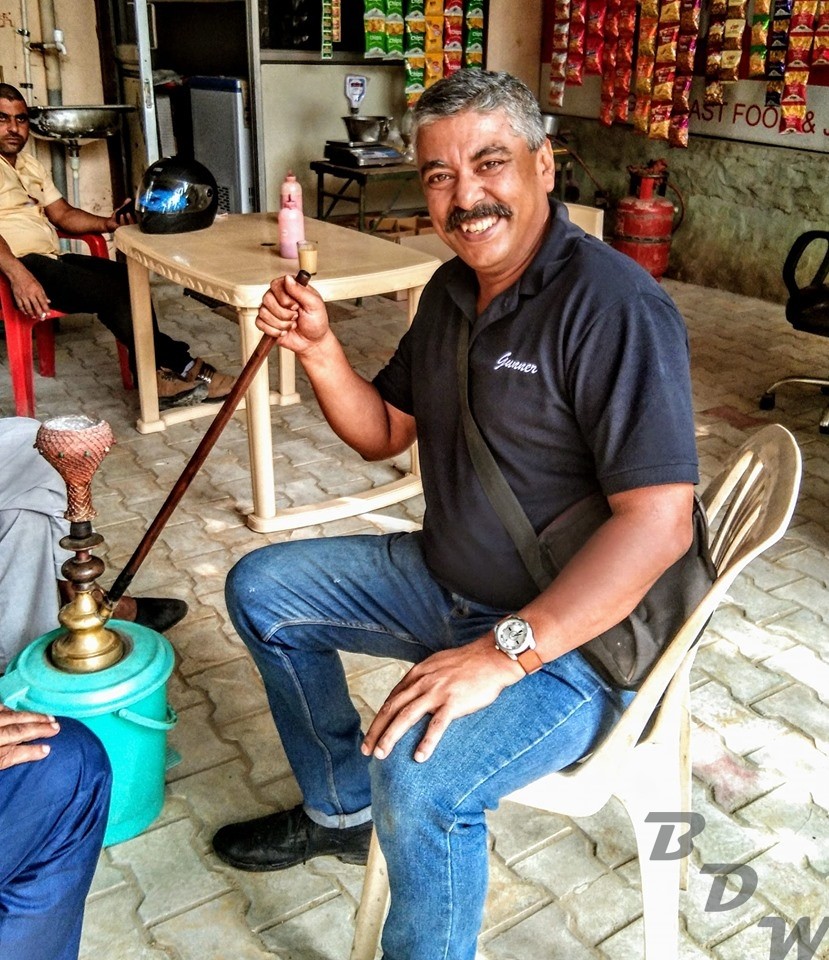 #From_the_road… As I reach my workplace, it feels welcome to find a well kept room, chilled beer (BIRA), hot lunch (laccha paratha, keema sabzi, shahi paneer, daal, fresh salad) waiting. Thankful…. A little rest… Thereafter… Will get on with some serious work… 🤘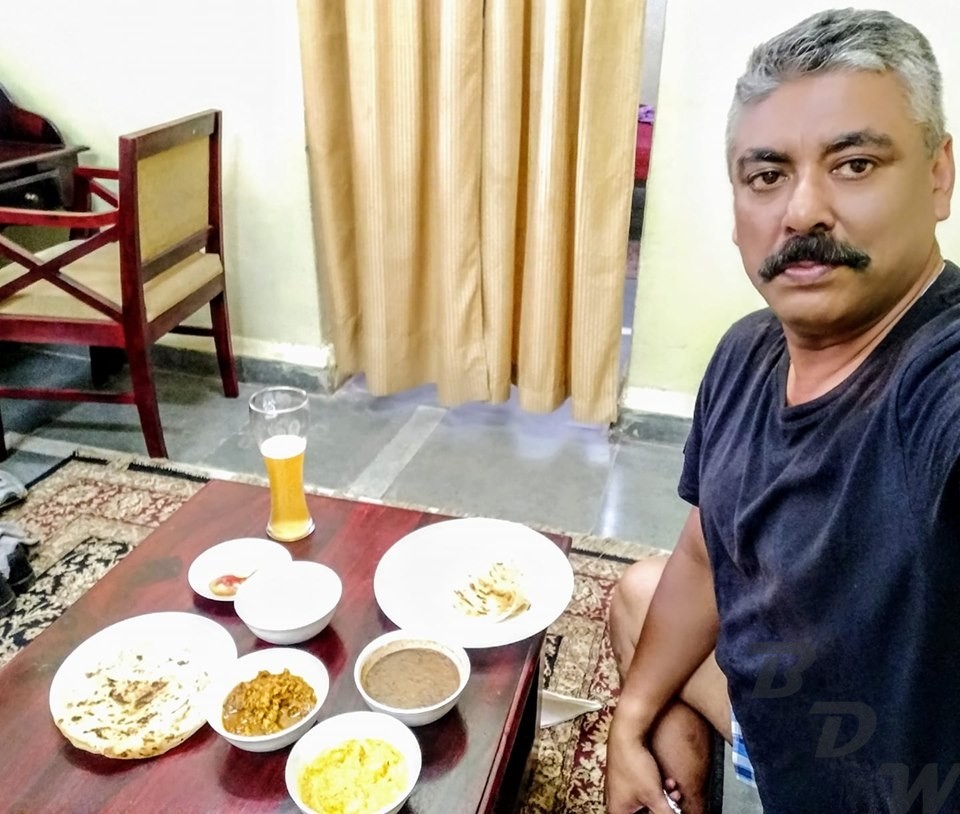 In spite of the busy work schedule, I managed to take out some hours in the evening with #Shwet_Agni, to explore nearby. People say a place is drab, but if you search… You will always find jewels. Many bikers and friends often tell me… All forts, ruins, temples are similar… Well.. as per me, they are not. Just like every human, every monument has its laughter, tears, stories.. Just that you have to study in advance and bring the eye and heart, that the place speaks to you, just like a La or a Tso.
#Hisar region in Haryana, was ruled by several major powers in India, including the Maurya in the third century BC, the Tughlaq in the 14th century, the Sayyids, the Lodi, the Mughals in the 16th century, and the British in the 19th century. Post Independence, Hisar was part of unified Punjab, but was given to Haryana in 1966. Current Hisar city was built by Firoz Shah Tughlaq in 1354 AD, the name was actually Hisar-e-Firoza, as a walled settlement inside the fort with four gates, Delhi gate, Mori gate, Nagauri Gate and Talaqi Gate, none of which exist originally today, except for the names of the locality.
#FirozShah_Palace_Complex.
The palace, is located at a strategic point where the old Delhi Multan trade route branched to Khorasan, Iran. The palace consists of a mosque, a #Diwan_e_Aam, a palace for his wife, underground apartments and a granary. Firozshah himself stayed at Hisar to supervise the construction. His cocubines palace is close by and his courtesans rooms are inside the complex only. The artwork in the fort is the synthesis of Islamic and Indian architecture. The palace is built of red sandstone, taken from the Hindu temples, likely from Agroha, destroyed by the Islamic invasions. #Diwan_e_khas is a central courtyard inside a two-storied rectangular structure. This courtyard also served as open hall of private audience.
#Tehkhana an underground complex and two stories above ground with a central courtyard. The underground apartments used for sleeping to escape the summer heat and evidenced by the presence of an underground hamaam, though fabled to hold the royal treasury.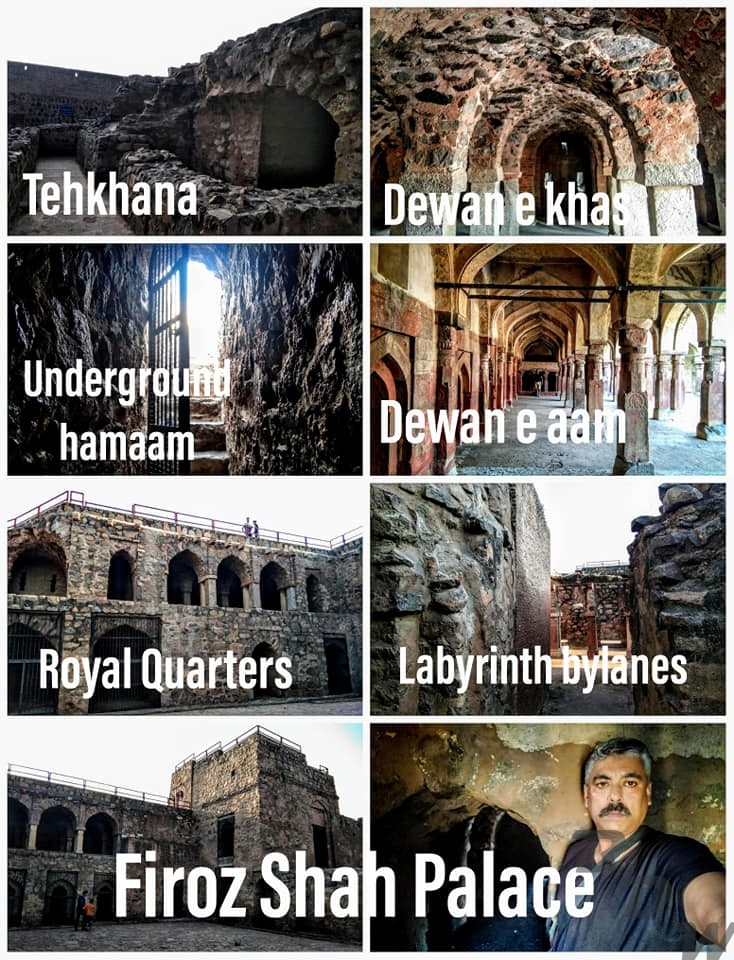 #Lat_ki_Masjid. On the South-East end of the complex is the square Lat ki Masjid made of red sandstone taken from the destroyed Hindu and Jain temples, the pillars have inscribed Hindu design and doors have Hindu temple style chabutra. Unlike other structures inside the complex, the mosque was built using Hindu Seljuk architecture. Qibla has been carved inside the prayer hall of adjacent L-shaped Liwan hall.
The Lat actually is an #Ashokan_Pillar, one of the rock-cut edicts of Ashoka dating to 250–232 BCE. This has been proved by the presence of the inscriptions in Brahmi script on the pillar, deciphered in 1837 by James Prinsep, an archaeologist, philologist, and official of the East India Company. The Ashokan pillar, most likely has been taken from its nearby original location at Agroha Mound, was cut for the ease of transportation and rejoined in four portions here, the remaining bottom portions are at Fatehabad mosque. The four upper portions of the Ashokan pillar here are tapering registers with a finial topped by iron rod.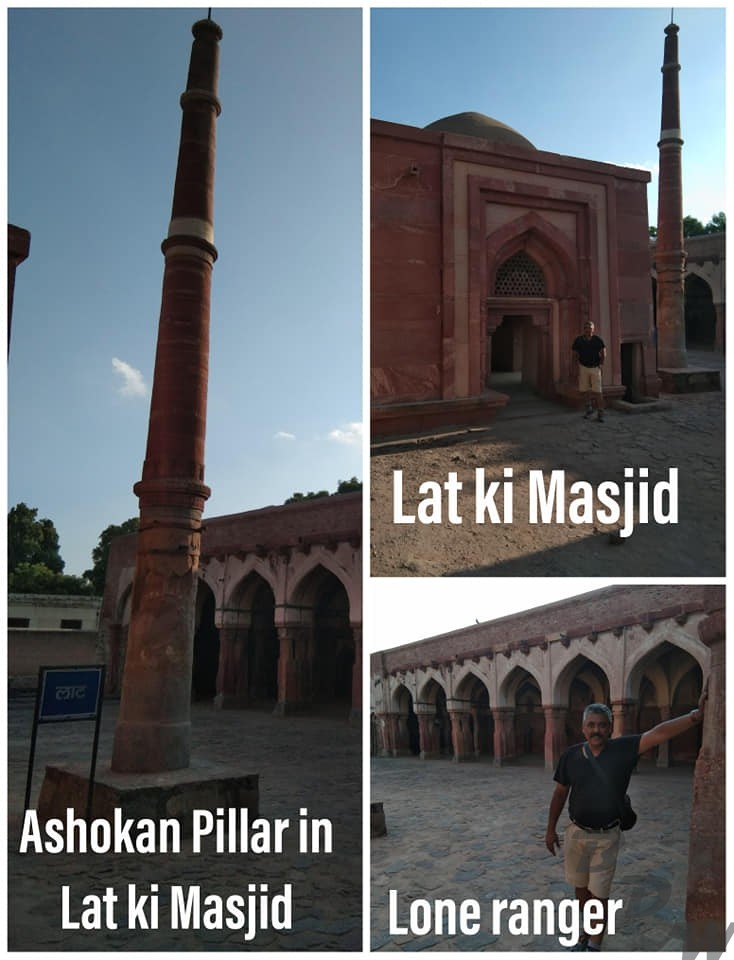 #Gujri_Mahal. Built by Firoz Shah Tughlaq for his beloved concubine Gujri Rani, a native of Hisar with whom he fell in love during the course of one of his hunting expeditions. The palace imbibes characteristic features of Tughlaq architecture such as massive tapering walls thickly plastered in lime and narrow openings. Open stairs lead to the #baradari (pavilion) of the palace, which stands on a high plinth and has underground chambers. There are nine prominent graves, who they are is unknown till date.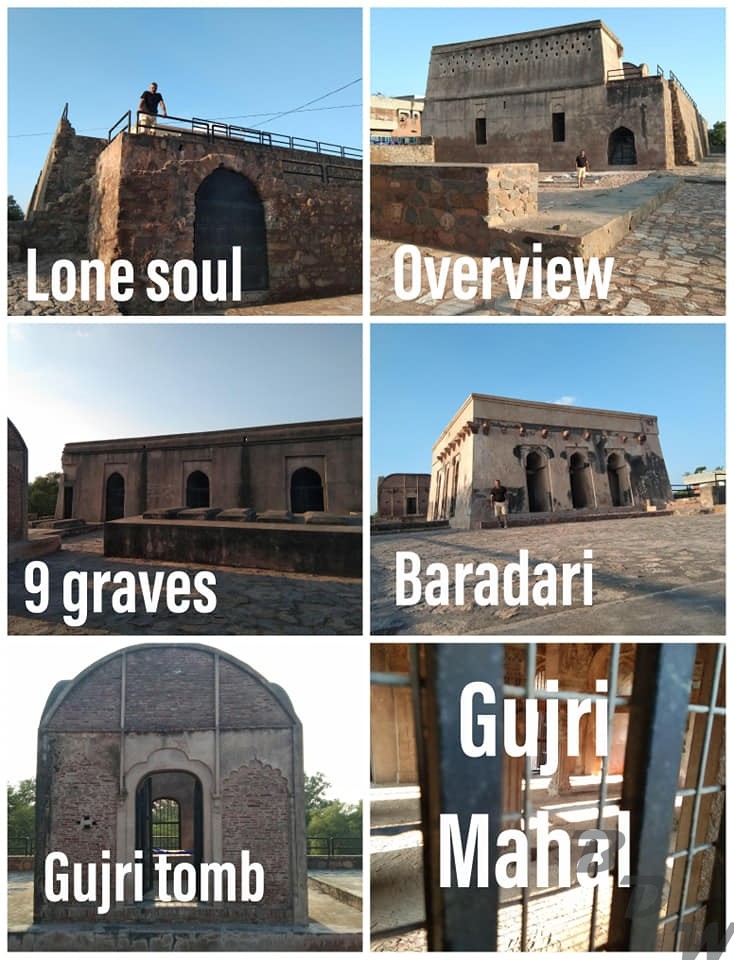 #Agroha_Dham. A 20th century Hindu Temple, built by the supposed erstwhile #Vaishya (Trader) community, currently represented by Agrawals, descendents of Raja Agrasena. The decision to construct the temple was made at the convention of All India Aggarwal Representatives in 1976. The trust was established for this purpose under Shri Krishna Modi and Rameshwar Das Gupta. The land was donated to the trust by Laxmi Narain Gupta. It is said that all Agarwals donated one rupee and a brick to construct this impressive structure. Though Mahalaxmi is the main deity, but the temple also houses Saraswati, Riddhi-Siddhi, Ganeshji and all Avatars with a special place for Kalki Avatar.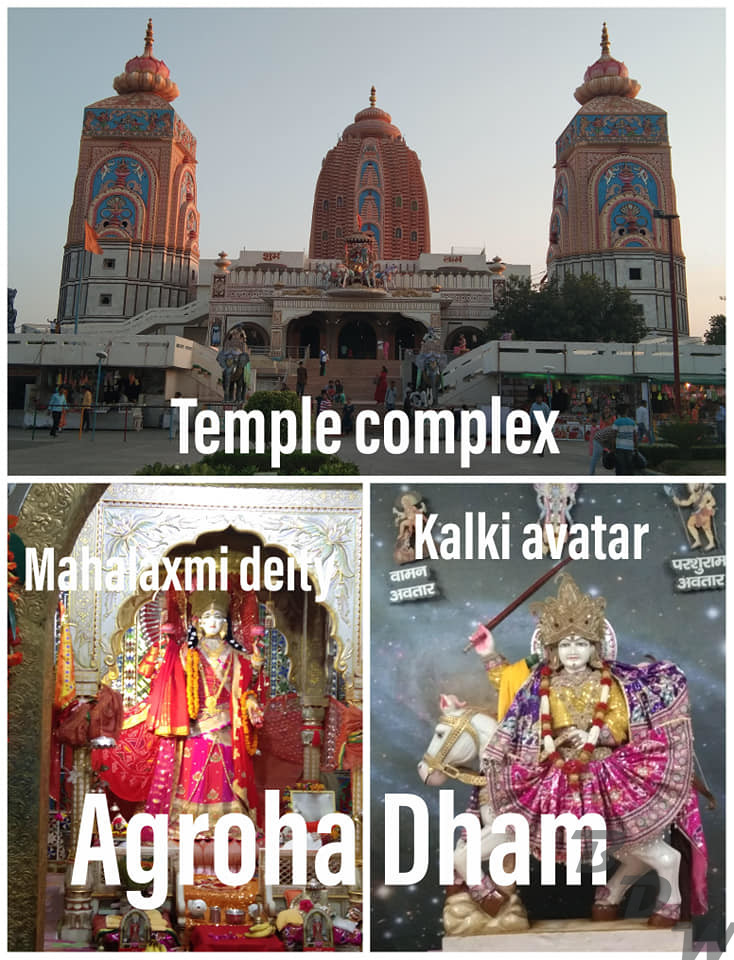 #Thoughts. Most ruins are empty and closed. I had to literally climb and scale a few walls to get in. Surprisingly I found there, a young 20 year old serious Jat boy searching… Just like me. On questioning, he told me… He is from Bhewani and had come to Hissar to appear in UPSC exam. A question had come about Gujri Palace, he couldn't answer and thought that inspite of being next to his home, he never bothered to see or learn it. So he came to actually find out. Loved seing at least one guy.