#Rajasthan_calls. Tenure in Bengal comes to an end, as I head out alone on a motorcycle to join my duties in Jaipur, Rajasthan. #জয়পুর_রাজস্থান_মোটরসাইকেল  আড়াই বছরের পশ্চিমবঙ্গর পাট চুকলো। এবারের চাকরির ডাক পশ্চিমে, রাজস্থানে, মরুভূমির কাছাকাছি। যদি হিসাব কষতে বসি, এই আড়াই বছরে কি পেলাম, কি হারালাম, তাহলে পাওয়ার ঝুলিটা ভরা। বন্ধু, বান্ধব, ভালবাসা, লেখালেখি, মোটরসাইকেলে বেড়ানো, মজা, আনন্দ ফূর্তি, সবই দারুণ। কিছু পরিহার্য লোকের সংস্পর্শেও এসেছিলাম, কিন্তু সে কথা যাক; ভালো মন্দ সব নিয়েই জীবন। দুধটুকু ছেঁকে খেয়ে ফেলতে হবে, জলটুকু পড়ে থাকুক। ২৫ জানুয়ারি, আমি আর শ্বেত_অগ্নি বেরিয়ে পড়ছি রাস্তায়, মোটরসাইকেল চড়েই পৌঁছে যাবো আগামী গন্তব্য, রাজস্থান। পরিবার এখানেই থাকলো মার্চ অবধি, বাচ্চাদের ইস্কুলের পালা শেষ হলে, মার্চ মাসে এসে তাদের সবাইকে নিয়ে যাবো। ততদিন একাই। এবারের মতো বাংলার পালা শেষ হলেও, দেখা কথাবার্তা হতে থাকবে বন্ধুরা। ফেসবুক, হোয়াটসঅ্যাপ, মোটরসাইকেল, রাস্তা… সবই তো রইলো হাতে। আর থাক না শুধু ভাল লাগাটাই…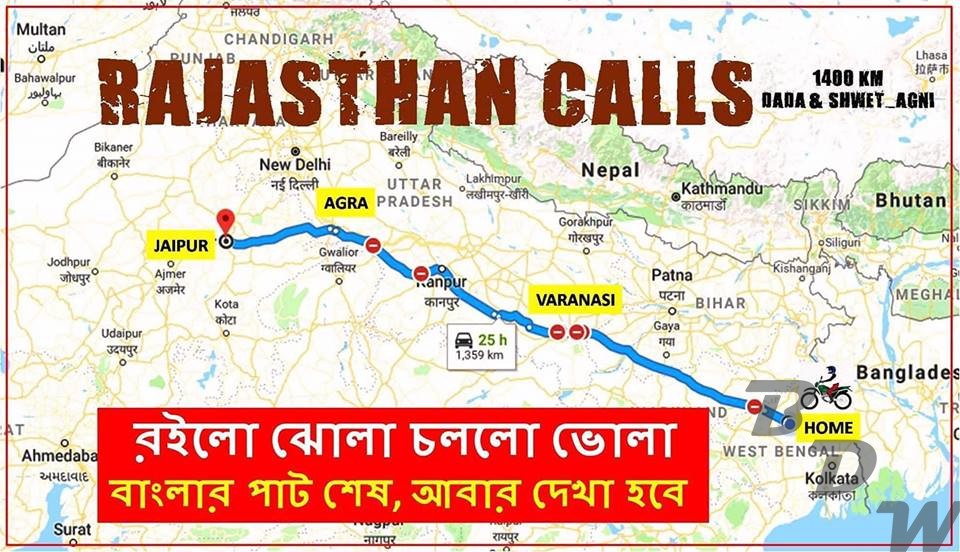 "আবার আসিব ফিরে ধানসিঁড়িটির তীরে-এই বাংলায়
হয়তো মানুষ নয় হয়তো বা শঙ্খচিল শালিকের বেশে
হয়তো ভোরের কাক হয়ে এই কার্তিকের নবান্নের দেশে
কুয়াশার বুকে ভেসে একদিন আসিব এ কাঁঠাল-ছায়ায়;
হয়তো বা হাঁস হব- কিশোরীর-ঘুঙুর রহিবে লাল পায়,
সারা দিন কেটে যাবে কলমির গন্ধ ভরা জলে ভেসে ভেসে;
আবার আসিব আমি বাংলার নদী মাঠ ক্ষেত ভালবেসে
জলাঙ্গীর ঢেউয়ে ভেজা বাংলার এ সবুজ করুণ ডাঙায়;
হয়তো দেখিবে চেয়ে সুদর্শন উড়িতেছে সন্ধ্যার বাতাসে।
হয়তো শুনিবে এক লক্ষ্মীপেঁচা ডাকিতেছে শিমূলের ডালে।
হয়তো খইয়ের ধান ছড়াতেছে শিশু এক উঠানের ঘাসে।
রূপসার ঘোলা জলে হয়তো কিশোর এক সাদা ছেঁড়া পালে
ডিঙ্গা বায়; রাঙ্গা মেঘ সাঁতরায়ে অন্ধকারে আসিতেছে নীড়ে
দেখিবে ধবল বক; আমারেই পাবে তুমি ইহাদের ভীড়ে।
#Final_Prayers #Jai_Hind
ॐ त्र्यम्बकं यजामहे सुगन्धिं पुष्टिवर्धनम्
उर्वारुकमिव बन्धनान् मृत्योर्मुक्षीय मामृतात् We Worship the Three-Eyed One Lord Shiva, who is Fragrant in spiritual essence and who nourishes all beings. May He severe our bondage of samsara, like a cucumber (severed from the bondage of its Creeper), and thus liberate us from the fear of Death, by making us realize that we are never separated from our Immortal Nature.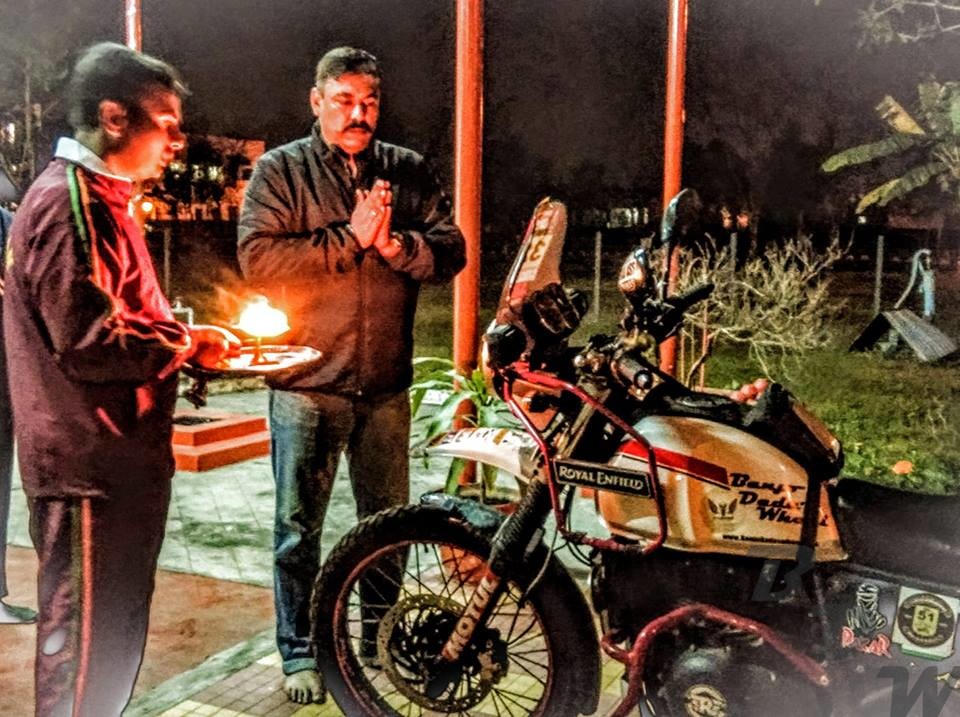 On the way… Thanks for the see off….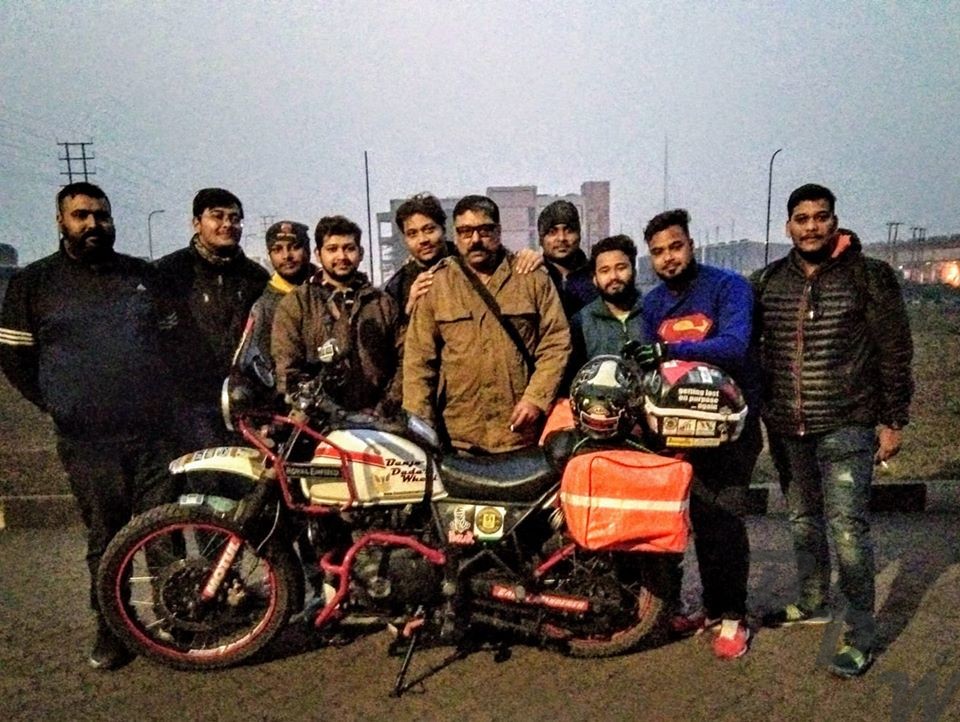 Reached Gopiganj (approx 60 km short of Allahabad) halting for the night, after 594 km today. Drizzling throughout the day (perhaps the last thing I expected …. Road always throw a new challenge) ; last 150 km is a mess of mud and trucks. Thundering now. Though the initial plan was to stay in Varanasi, but came much beyond due to a funny reason. The initial plan was to stay on NH2 off Varanasi, but couldn't find one hotel / lodge. The localites kept saying …. " Sirf 5 km mein ek se badhiya ek lodge "… Found the first one on the Highway after crossing Varanasi by 70 km. I come to 2 conclusions :-
1. #Feku ke constituency mein sabhi fekta hai. 😀😀😀🙏🙏
2. If roads signify development, then kettle and teacup needs to be kept ready again.😀😀😀🙏🙏…
Cheers and Jai Hind. (শালা রাত্তিরে আবার ভক্ত্ রা তুলে না নিয়ে যায় 😀)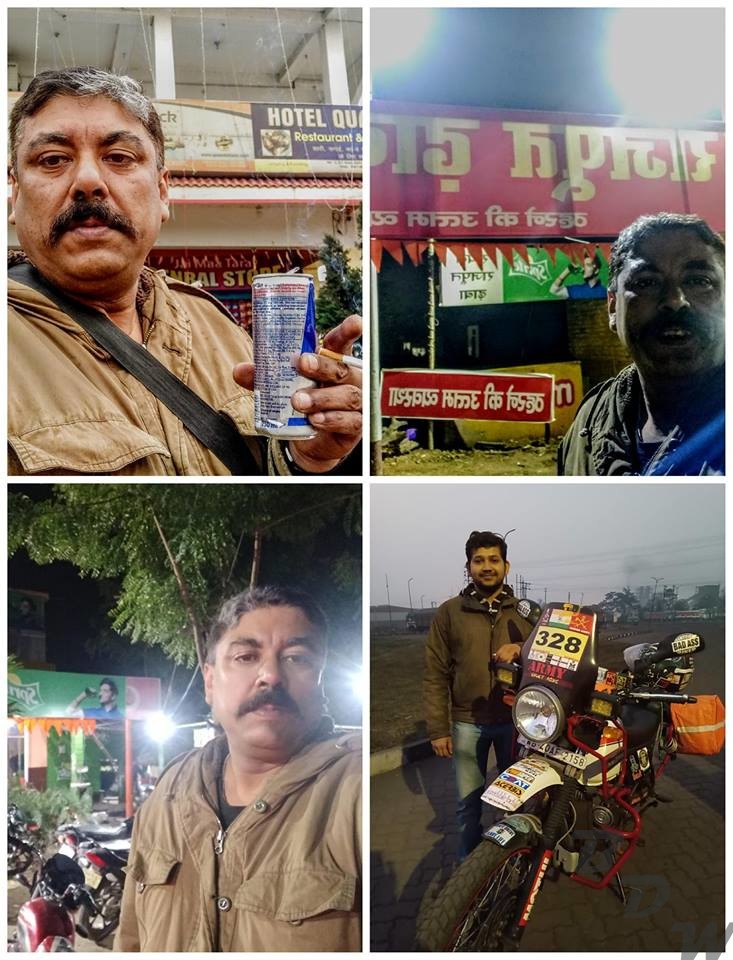 Wishing all Friends and Family a Happy Republic Day. #Long_Live_the_Republic #Jai_Hind…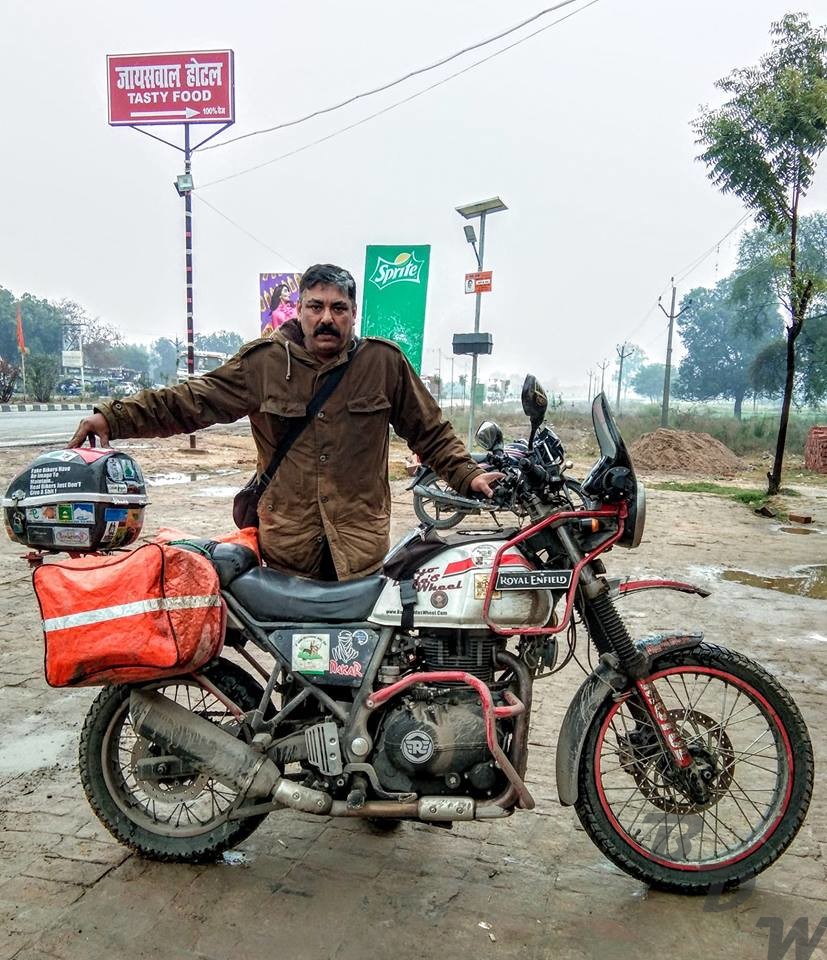 Reached Agra safely, 547 km today. UP আর Bihar র (আর বাংলা, সারা ভারতের) চ্যাংড়া মোটরসাইকেল বাজদের (ওই যারা তিনজন একটা ১০০ সিসি মোটরসাইকেলে মাথায় গামছা বেঁধে, স্যাডেলব্যাগ আর হেলমেটওয়ালাদের পোঁওওওওওও করে বাঁদিক দিয়ে স্পীডে হারিয়ে দেয়) একটাই ওষুধ .. বাটাম দিয়ে পোঁদে পটাপট আড়ং ধোলাই। কিন্তু ধোলাই দেবে কে? এখানেও রক্ষকই ভক্ষক। আর কি (ছেলে) গরুর পাল মাইরি!!!!!!! গরু মারা বন্ধ, তারা সব ফসল খাচ্ছে আর রাস্তায় নাচছে, আমার সামনে তিনটে গাড়ি, গরুদের ধাক্কা মারলো।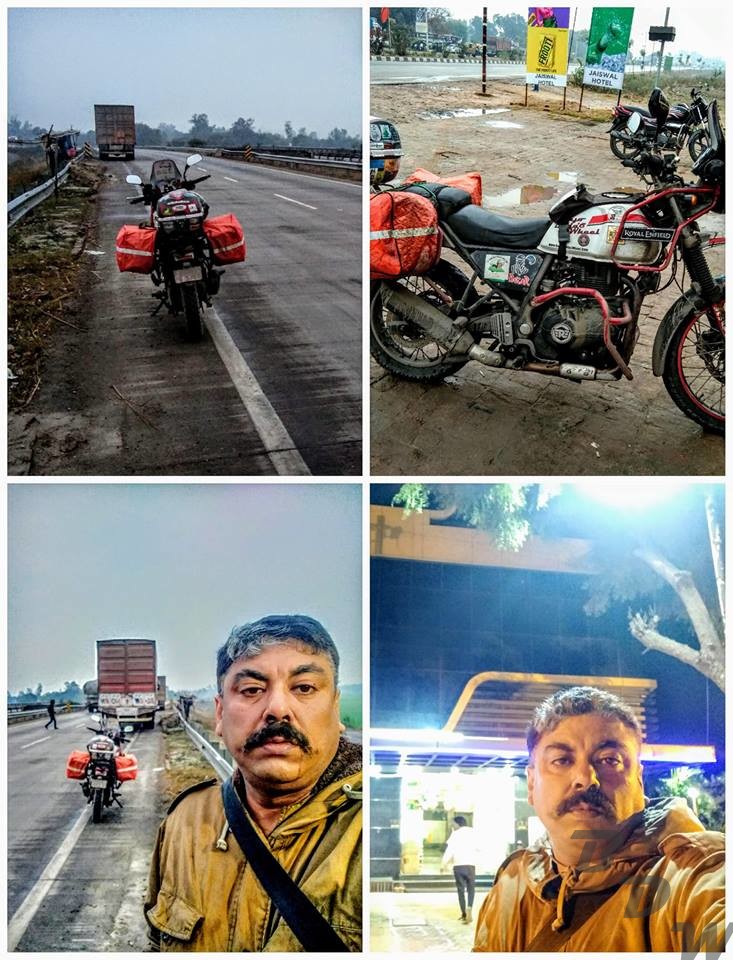 On the road … A quick Brunch break of chhola-bhatura. Around 200 km only left for my destination … Jaipur.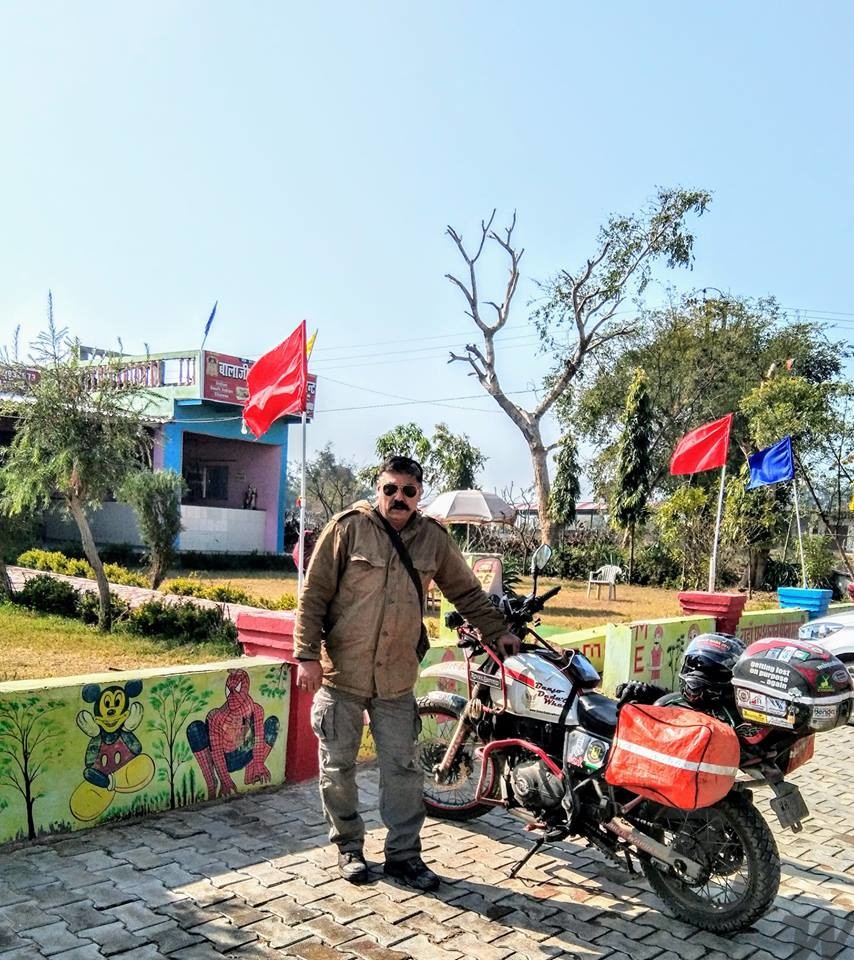 Finally … Entered #Rajasthan … 🐎🙏🤩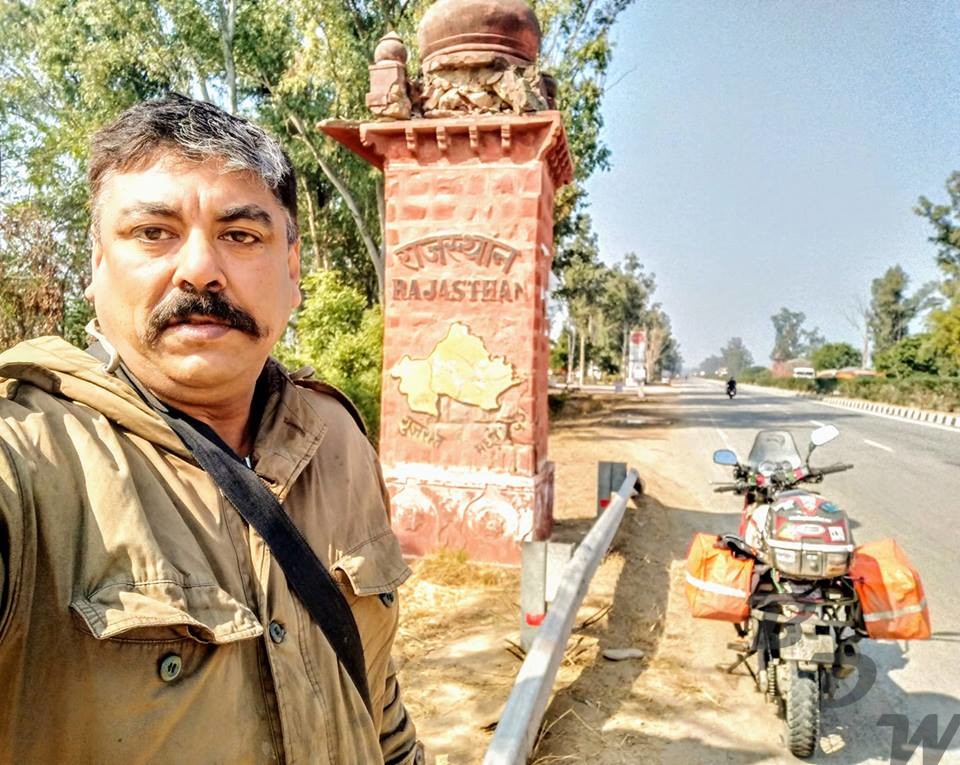 Reached Jaipur safely. In front of the #Hut, which will be my home for some time now. (Name only Hut, air-conditioned and extremely well furnished with all amenities for mortal comfort). #Bar_o_clock soon. Cheers 🍻🍻🙏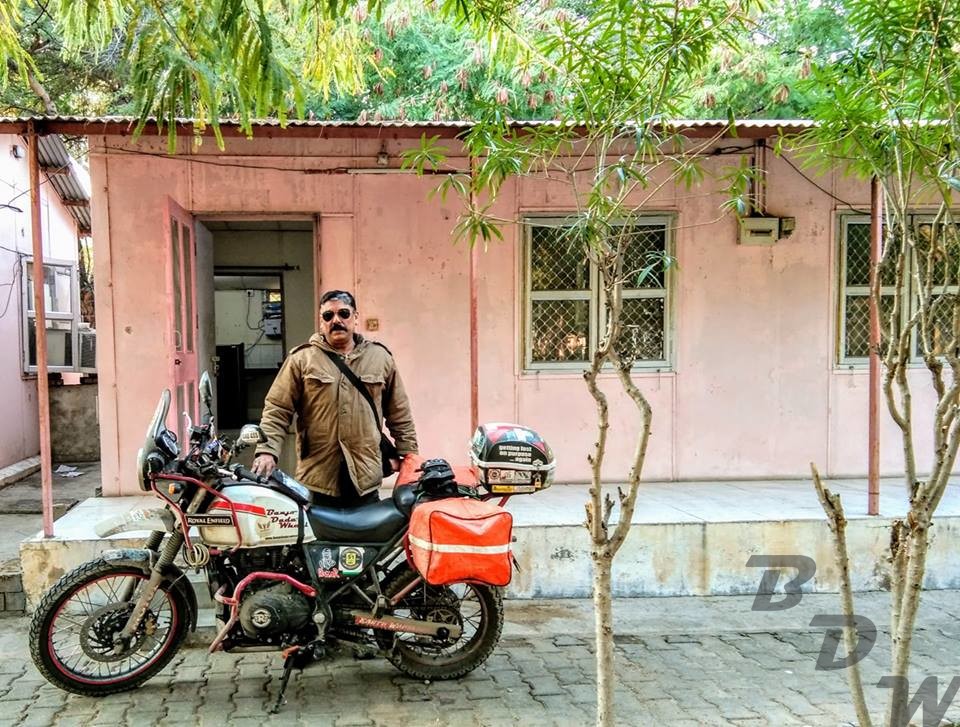 #Laal_maas & #Bajra_Roti #Rajasthan_Diaries. Had the privilege of trying out my hand in Laal_maas and Bajra & Makki roti, not only in eating but also trying to cook on open fire, while being a guest with the brother officer. A new sojourn begins… Feeling blessed