This Sunday, me and our friend Sarabjit decided to stretch our limits a bit further than the usual and reach Ajodhya Hills, Baghmundi and Muruguma Lake in Puriliya district. In Purulia we were joined by another excellent rider Gopal Garai dada from Puruliya onwards. It's a total of 480 km turnaround distance for us. We started at 5 am from the Muchipara More in Durgapur and was back home at 8 pm. This included the entire part of our Motorcycle tourism for the entire day including riding, stoppages, food breaks, sight seeing etc.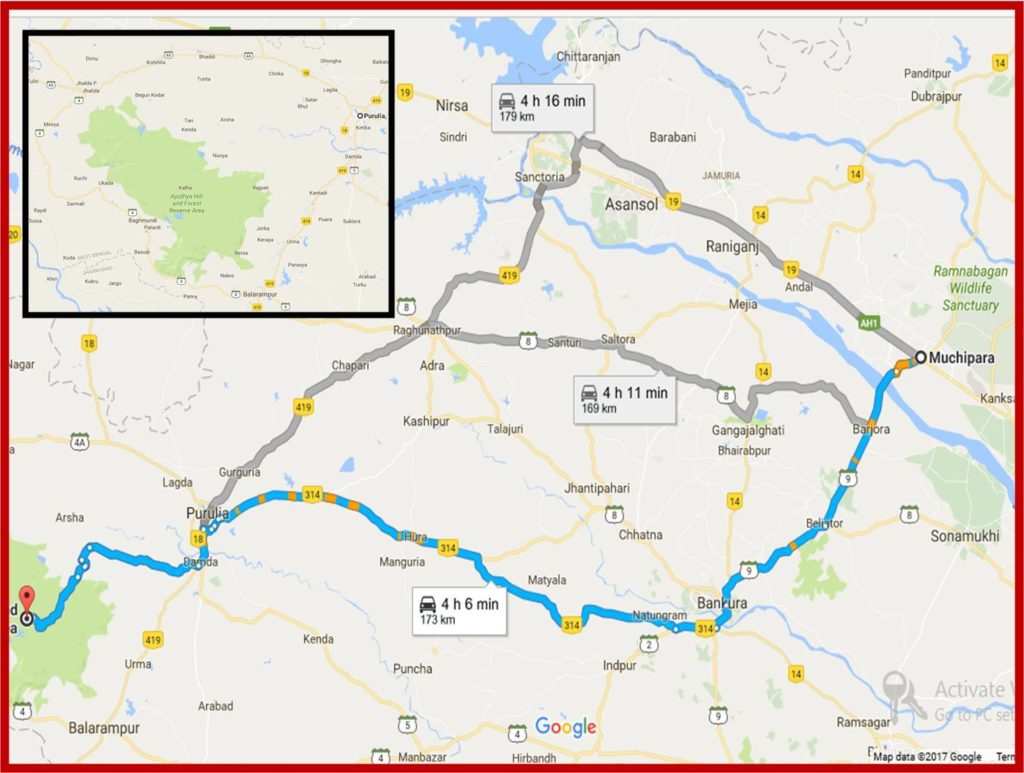 #HowToReach.
If you are riding from Durgapur to Ayodhya Hills, the route can be divided into 3 parts:-
A. Durgapur to Bankura (Bardhaman Bankura Rd. SH-9) – Excellent road condition. Durgapur – Barjora – Beliator Forest – Fulberia – Beliator – Bhedua – Bikna – Mithila – Bankura. We started around 5 am with a little city-traffic at the beginning, say during the first 30 mins till the Durgapur Barrage. After crossing the barrage the road condition is very good and I could comfortably ride at steady 70 kmph. The road takes you straight to Bankura. Some important villages enroute are Barjora-Fulberia-Beliator-Bhedua-Bikna-Mithila then to Bankura. You can stop in these villages/localities for tea/snacks/etc. After crossing Barjora the road took us through the Barjora-Bellator Forest, which is an excellent stretch and absolutely green all around. Except a few small stretches of bad-roads lasting for a couple of minutes each time, it was a very easy and pleasant ride.
B. Bankura to Purulia – Excellent road condition. Dhol Danga – Bankura Unnayani Institute of Engineering – Pohabagan (Take right) – Dulalpur – Bihpuria (Take left to catch NH 60A) – Indpur, Nabin Pukur, Belut, Puncha, Lalpur – Hura – Gurda – Baridih – Surulia- Namopara – Purulia. The road condition is excellent and the view on either side of the road is beautiful, with nature in its best looking form. The villages on the way are smaller with almost no shops or stalls to stop for a tea/snack. We road led us straight to Purulia Rail Station from where we took the National Highway connecting to Ayodhya Hills.
C. Purulia to Ayodhya Hills (Most part is in plane, last 1 hr uphill, road condition is mostly good). Purulia – Tamna – Jhunka – Baghmundi – winding roads uphill – Ayodhya Hills. Normally one should reach Bagmundi before driving uphill. We instead took right turn from Tamna and started uphill. The view changed drastically and the nature here is at its best. Beautiful lush green on either side of the narrow road (very good condition, you can do 70 kmph), then suddenly the range appeared at the distant horizon. Fade behind rainy clouds, the view is mind-blowing. Very soon we reached the bottom of the hills, and the road started to change. Now we were riding uphill, initially in 4th gear, then 3rd gear, then very soon we faced winds where only 1st gear worked. The breadth of the winding road is sufficient for a rider to ride uphill. There is very little traffic and unlike the roads to Darjeeling or Sikkim, there is almost no car coming from the other direction.
#Experience.
AWESOME. WORDS CANNOT DESCRIBE IT. Words will be irrelevant to describe how beautiful the place is. ITS NOT UNNECESSARILY THAT I HAVE SAID MURUGUMA DAM IS THE PENGANG OF BENGAL. SEE THE LUSH BLUE LAKE TO BELIEVE IT. THE RIDE TO MURUGUMA IS DESOLATE AND A LONG 16-18 KM, WHICH IS MIND BLOWING.
#FinishingNote.
হাই দ্যাখো গ' তুই ইখানে কেনে, লাল পাহাড়ির দ্যাশে যা
রাঙা মাটির দ্যাশে যা
হেথাকে তুকে মানাইছে নাই গ', ইক্কেবারেই মানাইছে নাই গ'
অ-তুই লাল পাহাড়ির দ্যাশে যা…
সিখান গেলে মাদল পাবি
মেইয়ে মরদের আদর পাবি
অ-তুই লালপাহাড়ীর দ্যাশে যা
লারবি যদি ইক্কাই যেতে
লিস্ না কেনে তুয়ার সাথে
নইলে অ-তুই মরেই যা
ইক্কেবারেই মরেই যা
Love, Peace, Ride Hard.
[su_slider source="media: 282,281,280,279,278″ title="no"]