Young riding enthusiasts often ask me, "What's the best motorcycle to buy?" My answer almost always is, "That depends on what you want to do with it." The key to being happy with your choice is not finding the "best" motorcycle, but rather finding the motorcycle that's right for you and the kind of riding you want to do. While interacting with many of my friends, I have personally felt that many terms like "Choppers, Bobbers, Brats, Enduro " etc are often being thrown loosely, hence the necessity of a better understanding of the different types of motorcycles prevalent. The search is mine, with copious borrowing from many motorcycling sites that I follow.
If we want to understand the basics of the differences in types of motorcycles, we should look at it from three different perspectives:-
(a) Differences based on BODY-TYPES AND FUNCTION OF STOCK MOTORCYCLES.
(b) Differences based on OFF-ROAD MOTORSPORTS.
(b) Differences based on CUSTOM BUILT MOTORCYCLES.
STOCK MOTORCYCLES AND FUNCTIONALITY
#Scooter. Known for their compact size, scooters are ideal for maneuvering through dense traffic, thanks to their relatively small wheels and upright position. Their fuel tank is located under the rider instead of at the front, which provides room for rider to put their feet on the floor, although not all scooters have this kind of floor. The absence of front fuel tank also makes it easier to operate the vehicle. On the other hand, due to the location of the fuel tank, scooters are inferior when it comes to handling. It is also inferior in terms of aerodynamic due to its upright position. Examples : Kawasaki J Series, Honda PCX Series, Piaggio Vespa.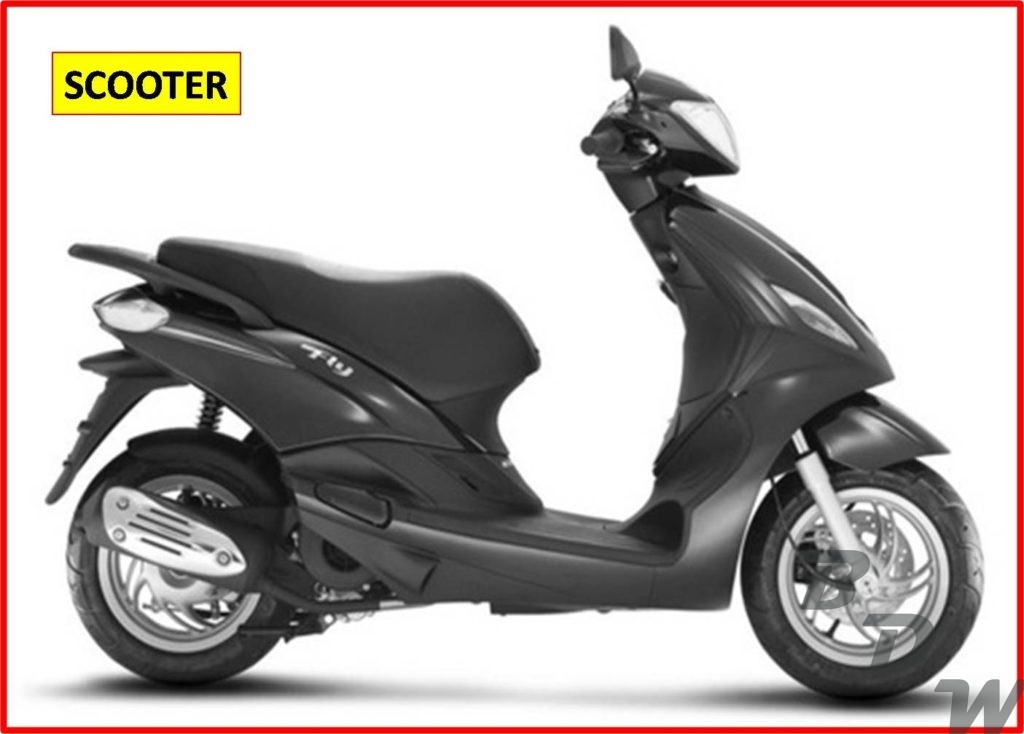 #Underbone. Often mistaken as mopeds (which are basically motorized cycles), underbones are like scooters with bigger wheels and absence of floorboard. They're very popular in developing Asian countries and offer an alternative for those who feel like scooters are not safe enough to travel on potholes. Examples : Kawasaki Edge, Honda Super Cub, Yamaha Jupiter.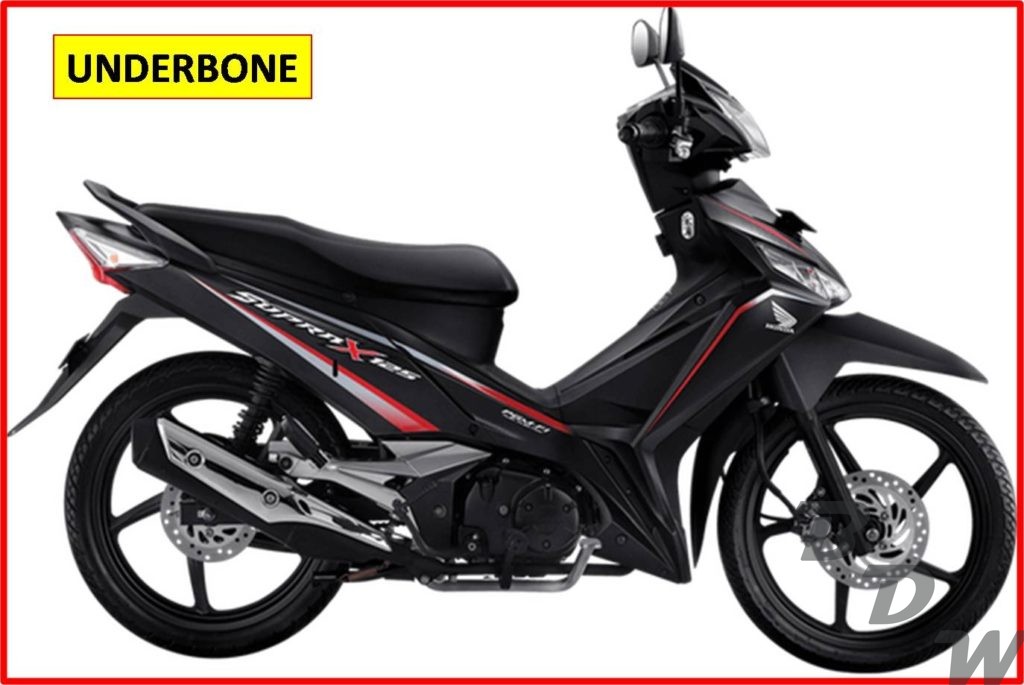 #Standard. Commonly referred to as "naked motorcycles," these bikes are known for their upright riding position. Both handlebars and foot pegs are situated so that riders can maintain a comfortable position without having to reach too far forward. Their moderate-size engines and functional, user-friendly design make them a good option for new riders. Examples : Kawasaki Z series, Honda CB series, Yamaha MT series.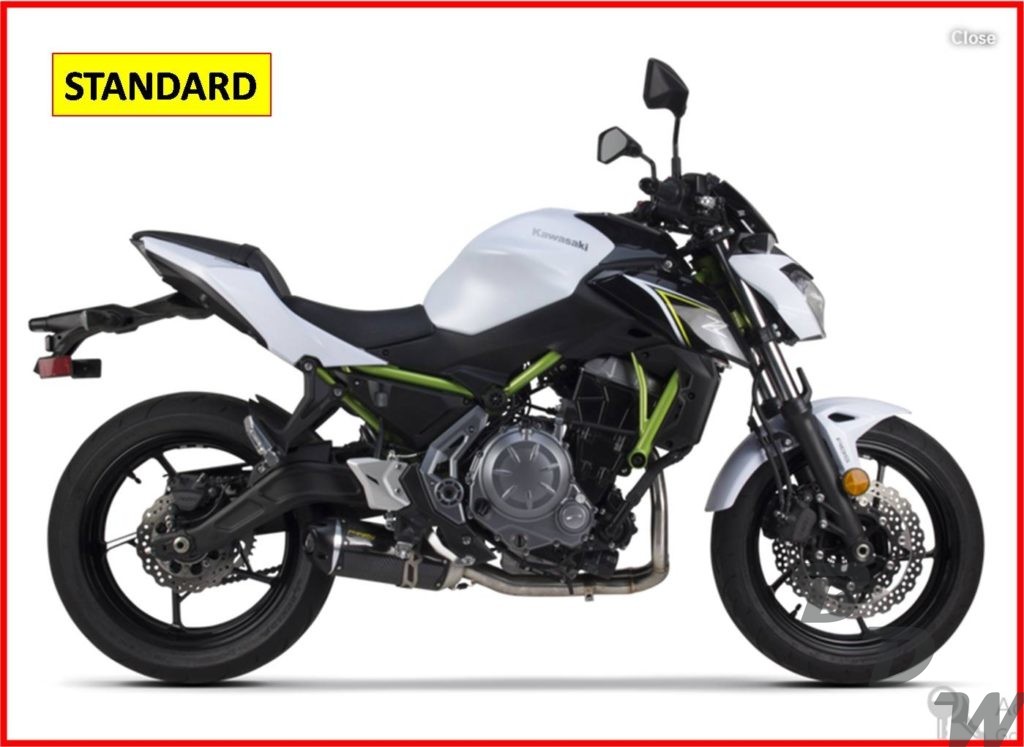 #Cruiser. Cruisers are modeled after large American machines from the 1930s to 1960s – the most popular being Harley-Davidsons. These bikes have a V-twin engine designed for low-end torque and offer a low riding position, high handlebars and forward foot pegs – causing riders to lean back slightly. This seating may not be ideal for beginners who are anticipating riding at higher speeds for long periods of time, since pulling back on the handlebars to battle wind can be tiring. Emphasis is on comfort and highway stability. They're characterized by their low seating position, long wheelbase, and relatively tall handlebar position. While big cruisers can be heavy, expensive and intimidating, almost all manufacturer lineups include small and mid-sized machines. Examples : Kawasaki Vulcan, Harley Davidson Softail, Honda Spirit.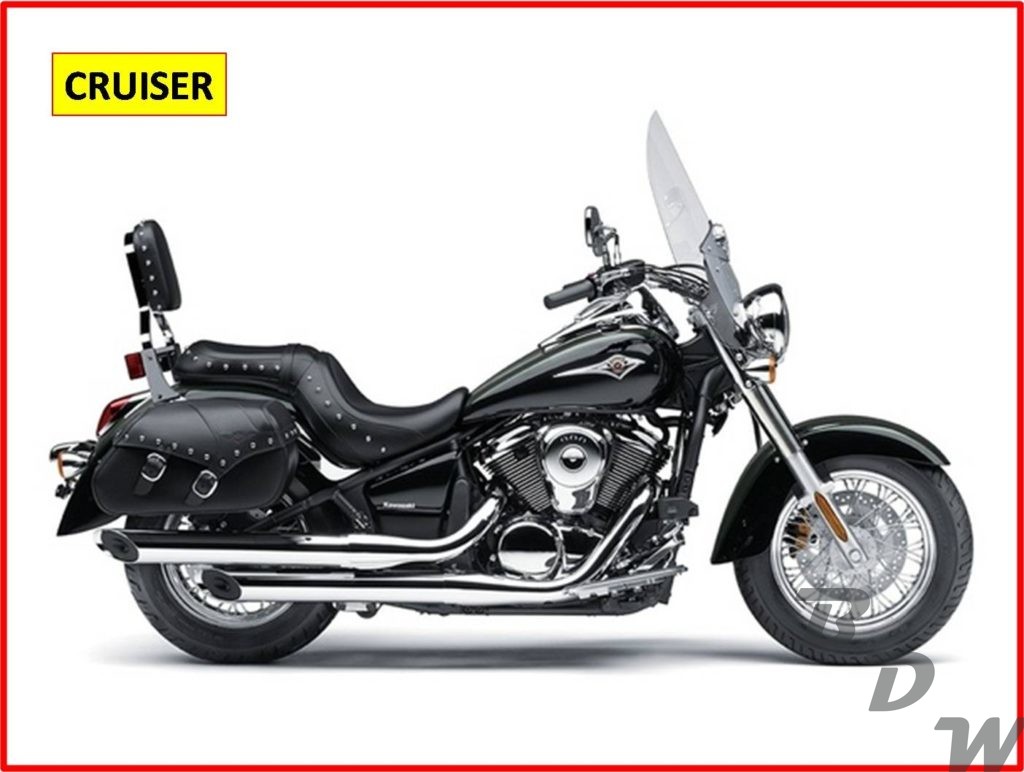 #Tourer. Touring bikes are designed for comfortable long trips. The wheelbase is often long to provide stability comfort on the highway. Rear passenger seat is often made more comfortable than any other type of bike, and the storage room is usually superior to accommodate a long trip. Some are also equipped with comfort features like air conditioner, radio, and even a screen. Examples : Honda Goldwing, Yamaha FJR Series.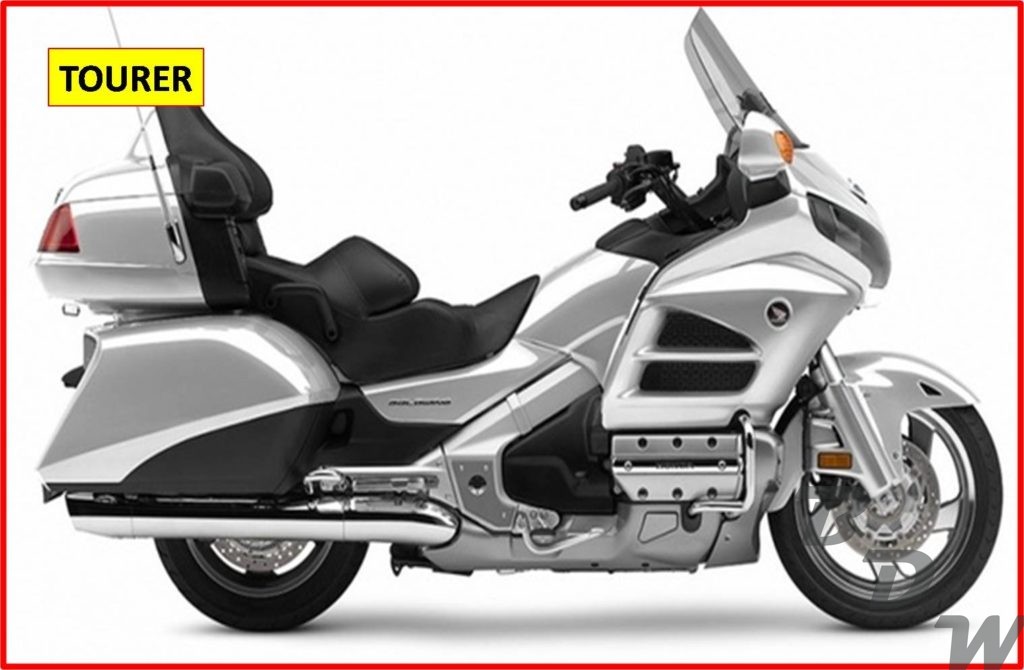 #Sportsbike. The most performance-oriented type of bike. Basically, it's standard bike with a more lean-forward riding position to provide better aerodynamic virtue of a 'full fairing', higher seating position for better center of gravity, and settings that are more focused towards performance than comfort. The body is often covered with fairings to improve aerodynamics. Examples : Kawasaki Ninja series, Honda CBR series, Yamaha R series.
#Dual_Sport_Adventure. Referred to as dual-purpose or on- and off-road motorcycles, dual-sport bikes have high seats and a high center of gravity to better handle rough ground. They're similar to dirt bikes, except they feature mirrors and lights that make them legal to ride on public streets. Their small engines and lightweight frames make them a good choice for a new rider, as long as they can straddle the bike with both feet planted on the ground. They are based on off-road bikes designed to be more convenient for road use. Examples : Kawasaki Versys, BMW R1200S, KTM Adventure.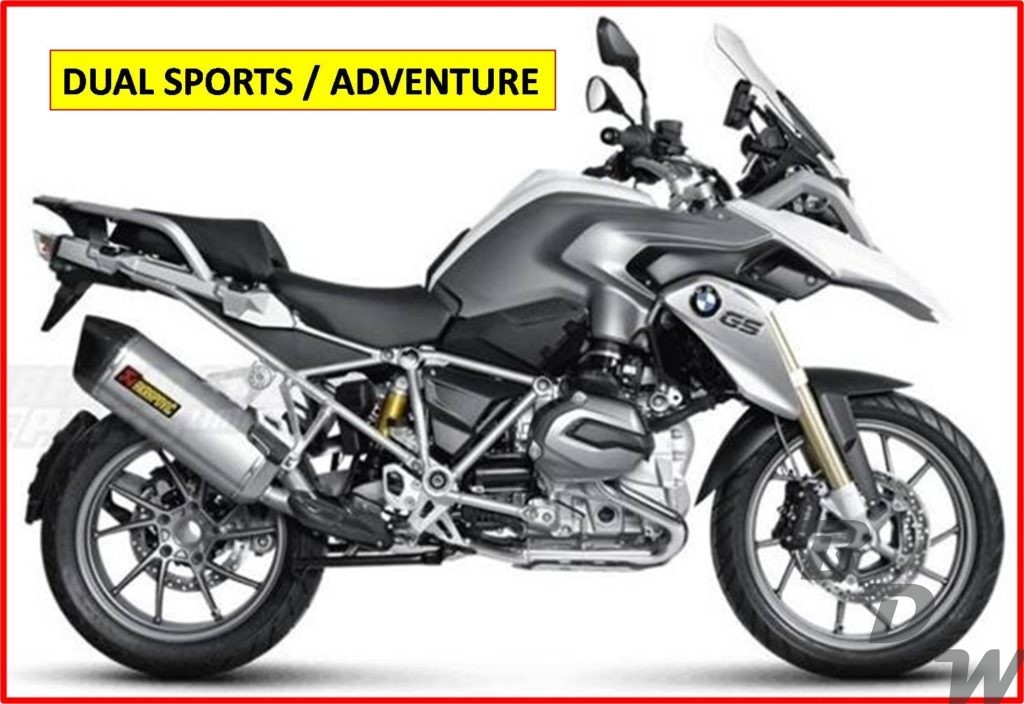 #Offroad_Dirt. Like its name, they're designed to travel on rough terrains. Their engine position is often high to provide ground clearance, and the body is often made to be as light as possible. Performance setting often prioritize lower end power, as it's where most of the power are used during off-roading. Suspension is often made soft enough for flexibility on terrains, and the tires are designed to maintain grip on rough surface. Examples : Kawasaki KLX Series, KTM XC-F, Honda CRF Series.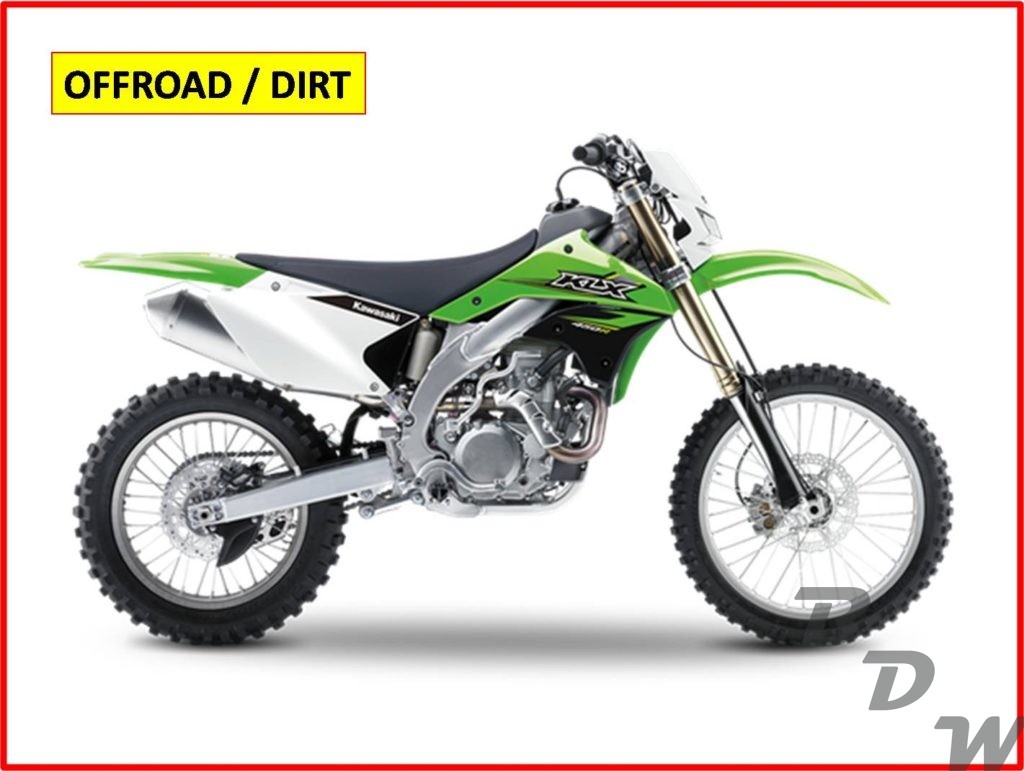 #Racing_Superbike. Superbike racing motorcycles must have four stroke engines of between 800 cc and 1200 cc for twins, and between 750 cc and 1000 cc for four cylinder machines. The motorcycles must maintain the same profile as their road-going counterparts. The overall appearance, seen from the front, rear and sides, must correspond to that of the bike homologated for use on public roads even though the mechanical elements of the machine have been modified. THIS HAS NUMEROUS VARIANTS AND IS A SEPARATE STUDY IN ITSELF.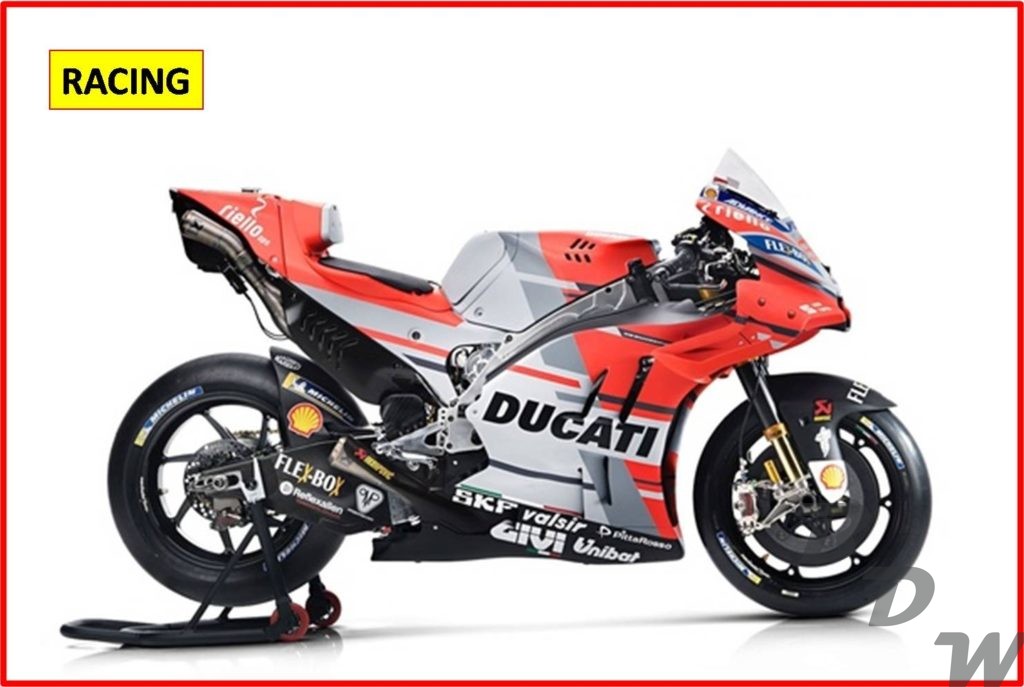 #Crossover_Sport_Touring.  Either a touring bike designed to be more like a sportsbike, or a sportsbike designed to be more like a touring bike. The idea is to balance the comfort of touring bike with the performance of sportsbike. Example : Kawasaki ZX-14, Honda ST Seties, Yamaha Tracer.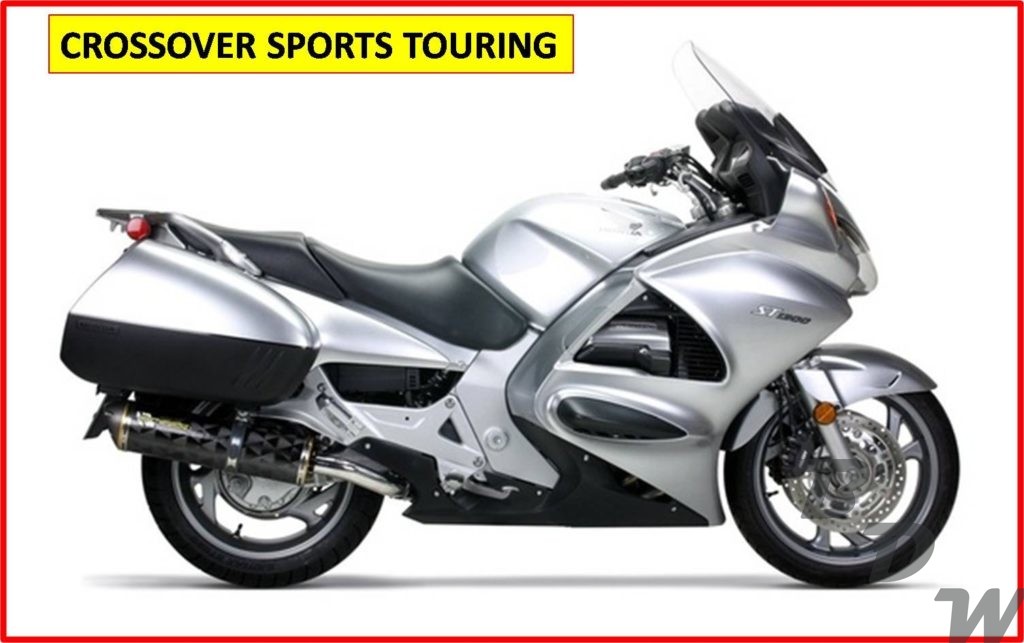 #Crossover_Sport_Cruiser. Cruiser bikes that are designed to be sportier by having higher seating position, more lean-forward riding position, and stiffer suspension. Examples : Harley Davidson Sportster, Ducati Diavel, Triumph Thunderbird.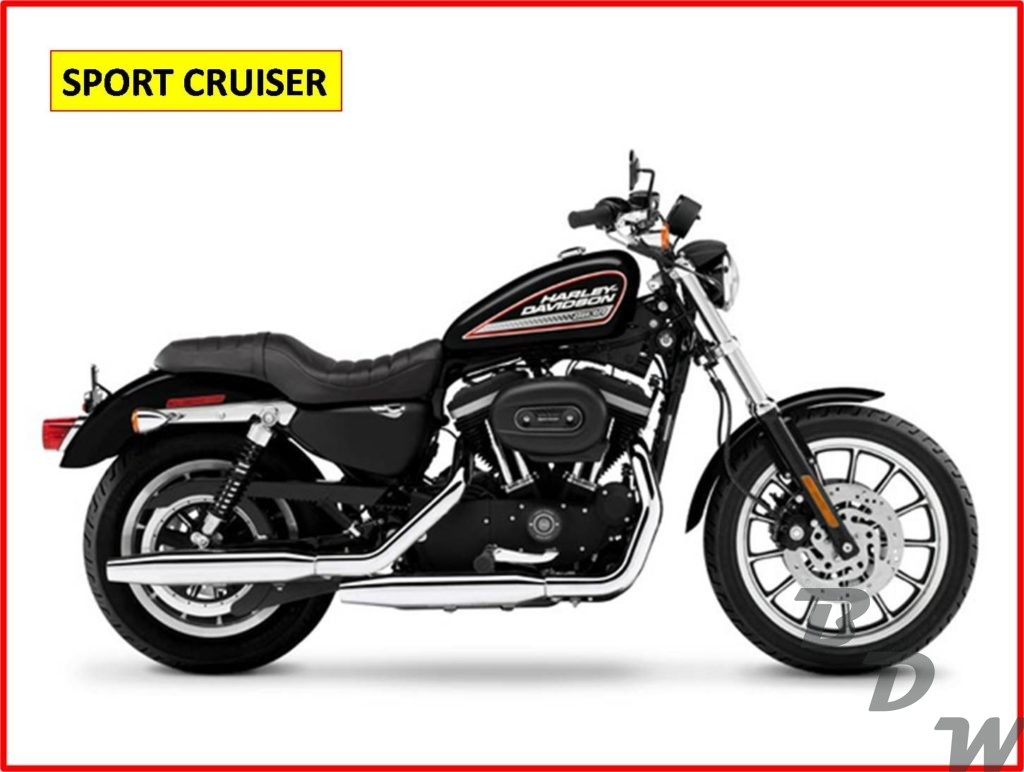 OFFROAD MOTORSPORTS
There are specialized motorcycles for a variety of off-road motorcycle sports:
#Motocross. Such bikes (once called "scramblers") are raced on short, closed off-road tracks with a variety of obstacles. The motorcycles have a small fuel tank for lightness and compactness. Long-travel suspension allows riders to take jumps at high speed. Motocross engines are usually single-cylinder two-stroke or four-stroke units, which vary in size from 50cc up to about 650cc. Motocross sidecar outfits have bigger engines, usually four-stroke and often twin-cylinder. Motocross bikes are also used in freestyle motocross.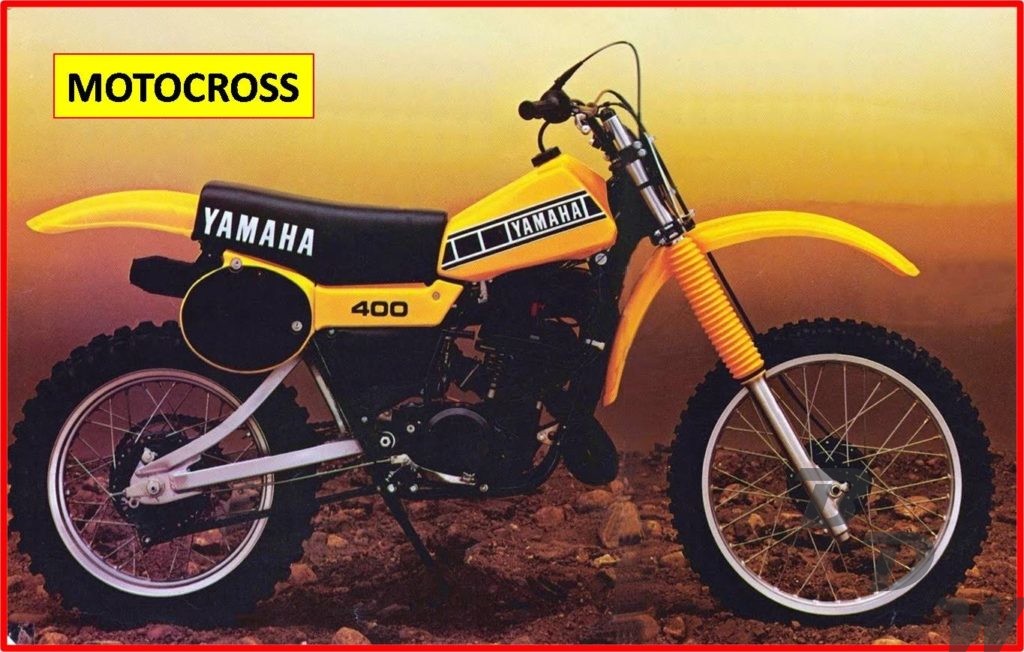 #Enduro.  A modified and road-legal motocross bike, having the addition of a horn, lights, effective silencing and a number plate. Enduro riders compete over a longer course (which may include roads); and an enduro event may last between one day and six days (such as the International Six Days Enduro). Some enduro events (known as "multi-lappers") are held on rather shorter circuits, not unlike scramble tracks. "Multilappers" are especially popular with novice riders.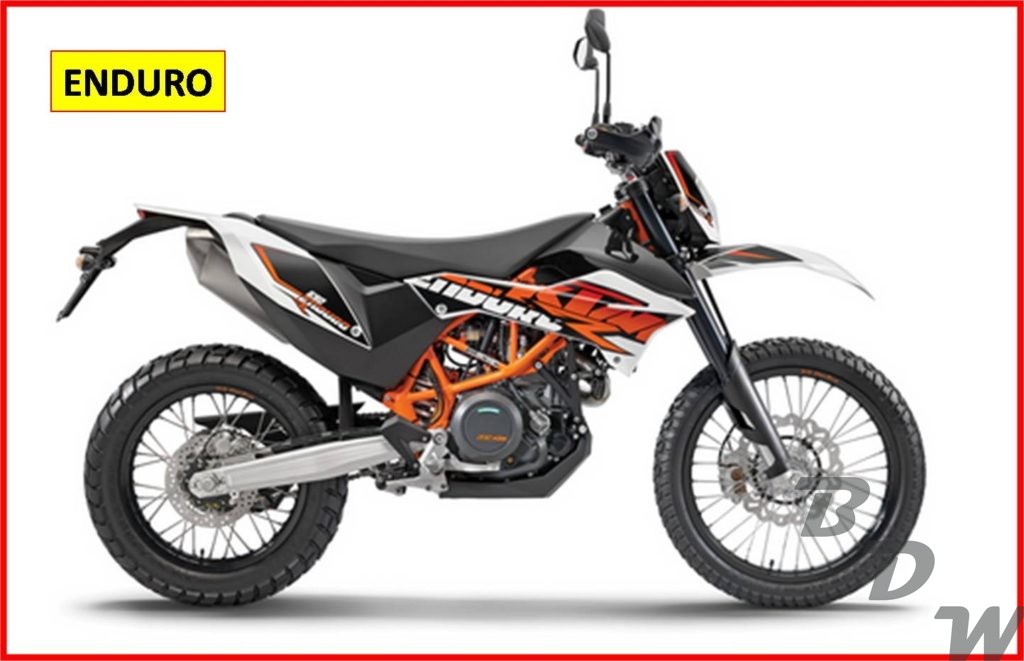 #Rally_Raid, or "rallies".  A special type of enduro bike with a significantly larger fuel tank for very long distance racing, typically through deserts (e.g. Paris-Dakar rally). Engine capacities tend to be larger, usually between 450 cc and 750 cc.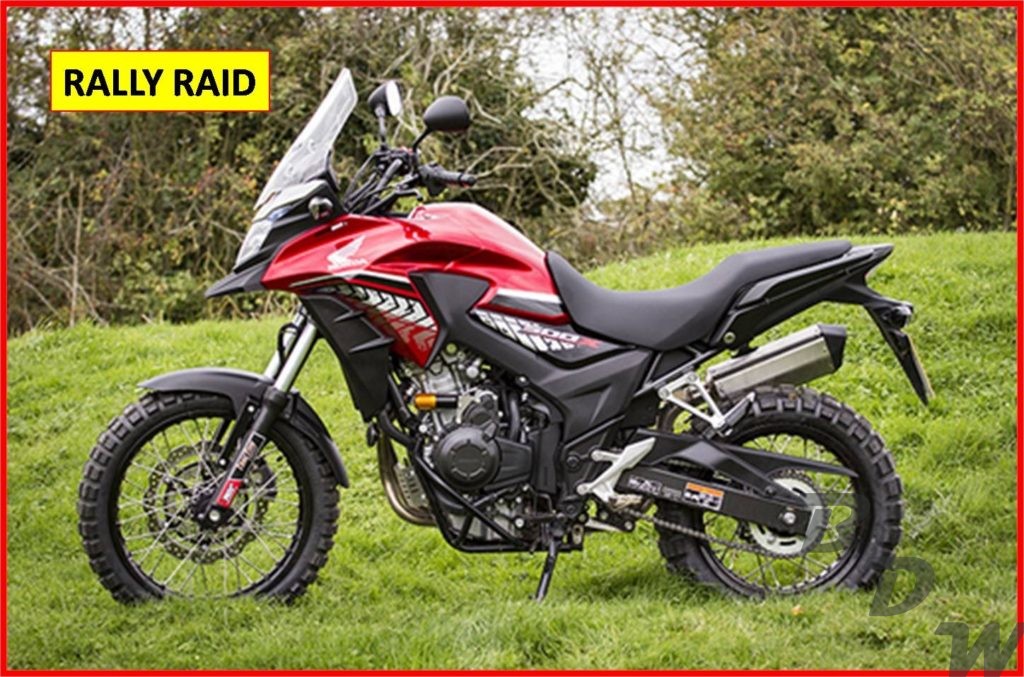 #Trail.  A trail bike is a dual-purpose bike, made for on-road and recreational off-road riding. A trail bike may resemble an enduro bike, but since a trail bike is not intended to be used for competition, it may be less rugged, and equipped with dual-purpose tires and with more road legal equipment, such as indicators, mirrors and extra instruments.
#Trials. Trials riding is a specialized form of off-road competition testing balancing skills and precision rather than speed. For a trials bike, low weight and crisp throttle response power are the priorities, so trials bikes tend to have a small (125 cc to 300 cc) engine, with two-strokes being common. During the trial, the rider stands on the footpegs, so a trials bike will have only a vestigial seat, or no seat at all. Fuel tanks are very small, giving a very limited range.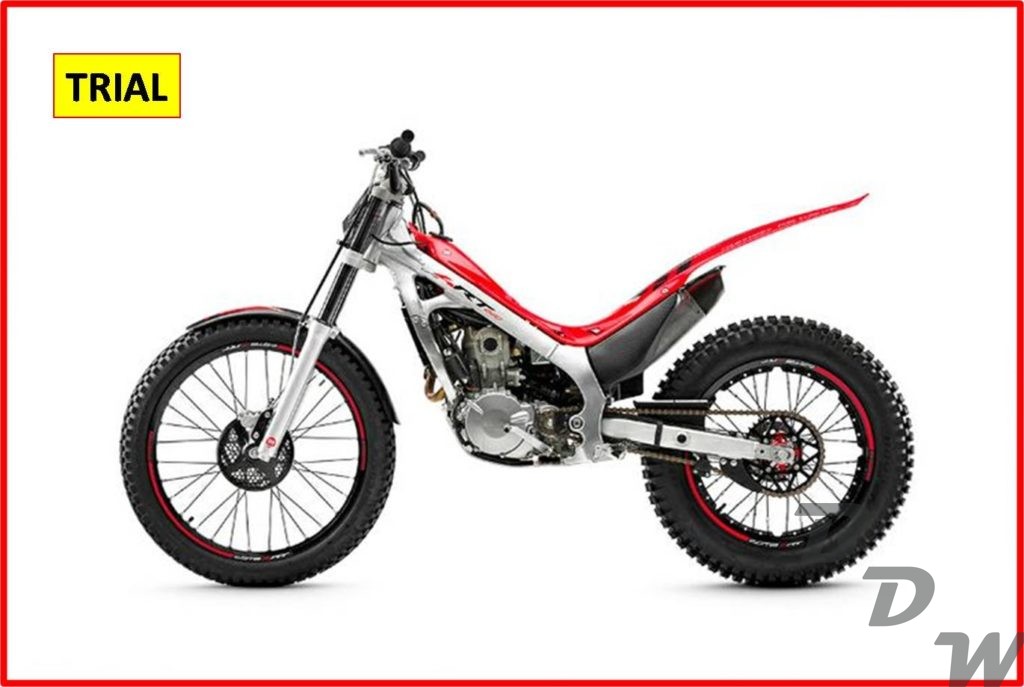 #Dirt_Track_Racer. High-speed oval racing, typically with no brakes, nor rear suspension. The engines, fuelled by methanol, are long-stroke four-stroke singles. They have at most two gears. Some types, such as speedway, and grass-track bikes, are designed to take left turns only.
CUSTOM  MOTORCYCLES
#Streetfighter. Streetfighter motorcycle is a sportbike stripped nearly naked, customized to have a more aggressive stance and attitude. This is usually accomplished by removing the fairings, adding an aftermarket headlight, sometimes switching to dirt-style handlebars, and often adding a short, loud underseat or GP-style exhaust. streetfighters took their earliest inspirations from the cafe racers of the 1950s and 1960s, but really began to take form based on the Japanese bikes of the 70s and early 80s. Some believe the mods began with inexperienced riders who could afford a cheap Japanese bike, but not the repairs to keep them in original shape. After dumping a bike and breaking up the fairing, the only solution some of these riders had was to remove the fairing or ride around with the pieces flapping in the wind. The straight-up handlebars assist in little things like wheelies, while the removal of extraneous parts like rear footpegs, mirrors, and pillion seats lower the weight and improve aerodynamics, increasing the speed of the bike. In later years, Acerbis headlights became popular, in particular the Cyclops and DHH models–so much so, that they became almost a cliche, like the wrapped pipes of cafe racers.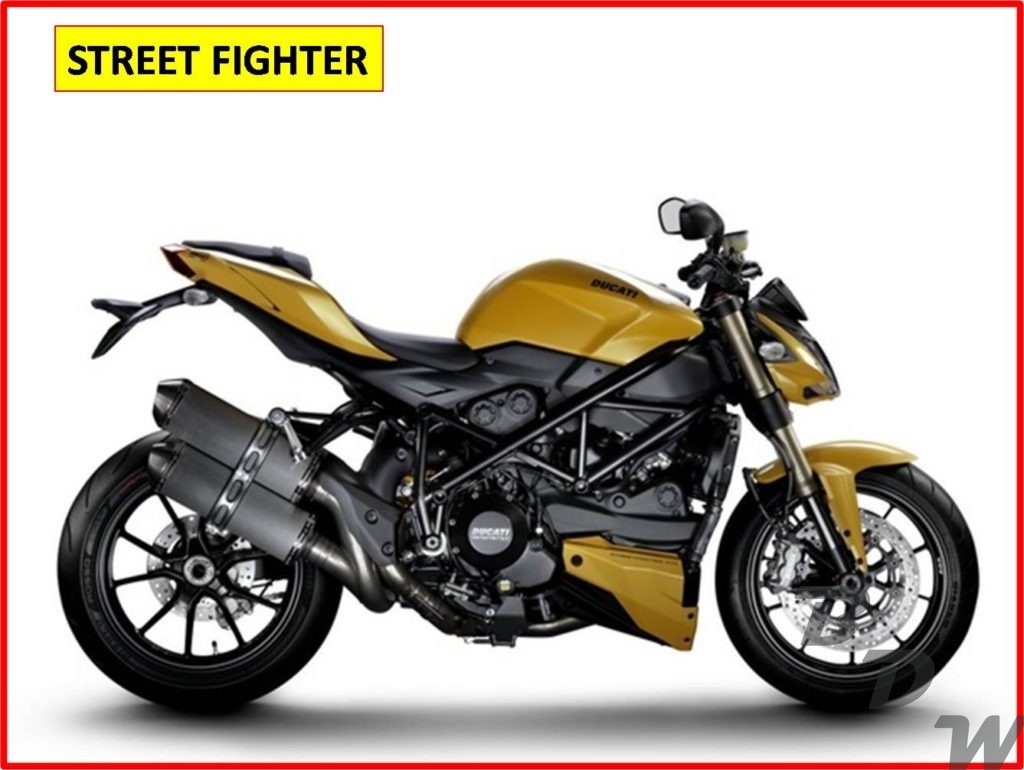 #Scramblers. The Scrambler's roots lie across the ocean in England back in the late 1920's, in the form of point to point races that favoured speed over rules.  Competitors were tasked with racing from point A to B in the shortest time possible to win, conquering whatever terrain laid in their way to shave off those precious seconds. In a world before mass-produced dirt bikes, riders would have to convert their every day road bikes into grass churning, hill climbing beasts that could handle themselves on any surface – the rougher the better. Before long these 'scramble' races developed into closed circuit trials riding, motocross, and the Californian desert scramble, and by the mid 1960's bikes more closely resembling the dirtbikes we see today began to go into production. They usually have high or upswept pipes, braced bars, knobby tires, and fenders to go off-roading.
#Cafe_Racers.  These bikes mean many different things to many different people. The basic Wikipedia history lesson goes like this. Back in the 50's bike owners would strip down and customise their own road bikes to imitate the Moto Grand Prix bikes. It was a craze primarily in Britain and Europe. The inspired style features a very distinctive line under the fuel tank and along the base of the seat parallel to the ground. The name Café-Racer was originally a mildly derogatory term describing "a motorcyclist who played at being an Isle of Man Racer" and would seldom make it very far away from the café's they would frequent. Ultimately, the term has been fondly adopted to celebrate the undeniable style such creations represented. Cafe racers start with a street-bike and strip off unneeded weight; they usually include clipons, rearsets, a seat cowl, and bikini fairing.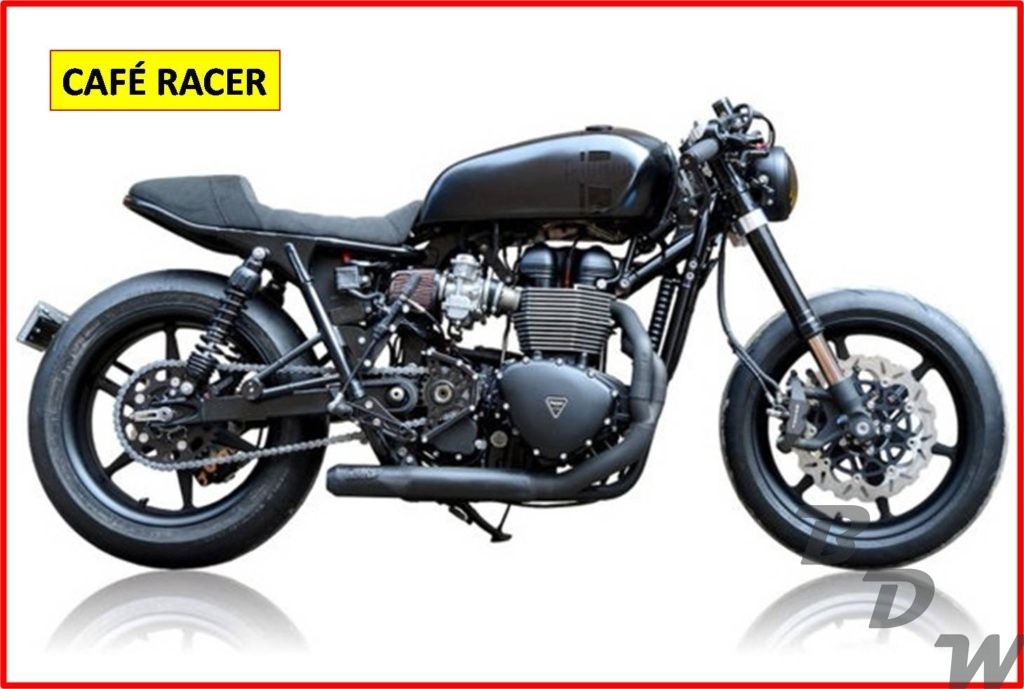 #Brats. Brats are the newest style. Chrome parts tend to get blacked out, pipes wrapped, cafe seat cowls are replaced by flat banana seats. the term brat or brat style has its origins in one specific shop in Tokyo, Japan, run by Go Takamine. Basically, Takamine's shop developed a distinct design language with their builds, and as their customs were imitated across the world, the proper name "Brat Style" became the generic, oft-hashtagged term #bratstyle, sort of like Kleenex or Q-Tip or Xerox. Many of Brat Style Japan's builds are based on the Yamaha XS650, SR400, and other small displacement Japanese bikes (metrics) with mildly modified frames, as well as older Harley Sportsters. During the pre-recession chopper craze, when chunky-tired, chromium monstrosities were being poured out of US-based shops like Orange County Choppers, Brat Style Japan's bikes stood out in stark aesthetic contrast:  they were dark, low, mean, and cheap. They had rear suspension, so you could ride them without breaking your back, and you could actually build one without breaking the bank. They had an old-school purity that harked back to the matte-painted hot rods of the post-WWII era. A brat style bike is a non-rigid custom with either a flat, slab seat long enough to ride two-up, or a solo seat lowered via mild frame modification.  It has a lowered stance with most unnecessary equipment removed–fairings, chrome, etc. Handlebars can be mini-apes, superbike bars, or motocross bars–but no clip-ons.  Moto-styled bars often skew the bike toward the category of "brat tracker," especially if slightly knobby tires are fitted. To summarize, a brat typically has Sprung rear (no hardtail), Flat, slab seat or lowered solo seat, Mini-apes or dirt-style bars (no clip-ons), Fenders bobbed, fairings and chrome removed. Unlike the streetfighter genre, the brat trend has not been adopted by any factory manufacturers. This is probably the best, in that part of the mystique of this style is the low-down, almost garage-built look.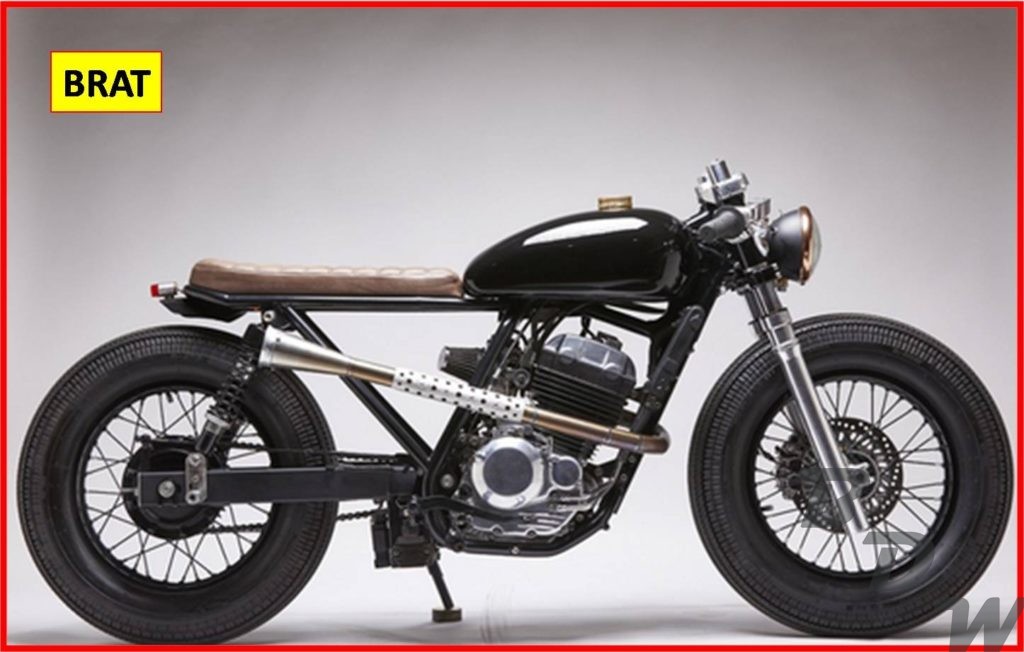 #Trackers.  Most mainstream types of custom bikes have a few spin-offs – when builders pick-up the baton and run in a slightly different direction, but here we have two main channels for the Tracker motorcycle. First, and certainly the most prolific, is the Flat Tracker and secondly, if slightly more obscure on the custom scene, the Board Tracker. Obviously, as the name suggests, Flat Trackers take their style cues from the motorcycle racing bikes of the same name, where street bikes were converted for use on dirt or clay oval race circuits. Back in the early 1930's, flat tracks became popular in the United States but with manufacturers using the event to field either prototypes or full-on race bikes, the event was pretty much limited to the big factories. By 1937, the race calendar had been extended to include a Class C series for road legal bikes with ordinary Joe's on board, and the rest as they say is history. As for tracker style bikes of today, these conversions are usually based on the race bikes of 40 years ago, when the sport was in its heyday. Everyone's heard of Harley's all-conquering style icon the XR750 but Triumph, BSA, Norton and even Yamaha 650's, were all built in a similar style. So, Trackers basically are street-legal track bikes using lightweight components such as alloy tanks and ABS plastic.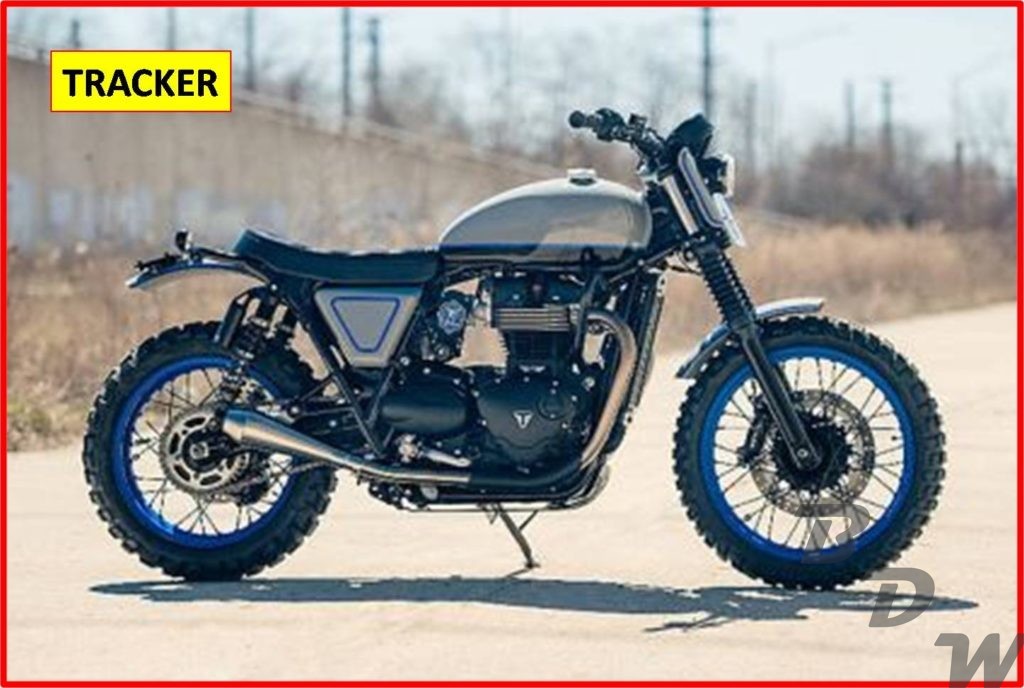 #Rat_Bike. Rat bikes are motorcycles that are styled to look like they have fallen apart over time and have been kept on the road and maintained for little or no cost by employing kludge fixes. Survival bikes look similar to but are different in purpose from rat bikes; they are modified for stylistic reasons. The essence of a rat bike is keeping a motorbike on the road for the maximum amount of time while spending as little as possible on it. This calls for adaptation of parts that were not designed to fit the model of bike in question. While the origin of the term rat bike is unclear, it may be attributable to custom motorbike magazines, and retrospectively applied. Most rat bikes are painted matte black but this is not a mandatory requirement.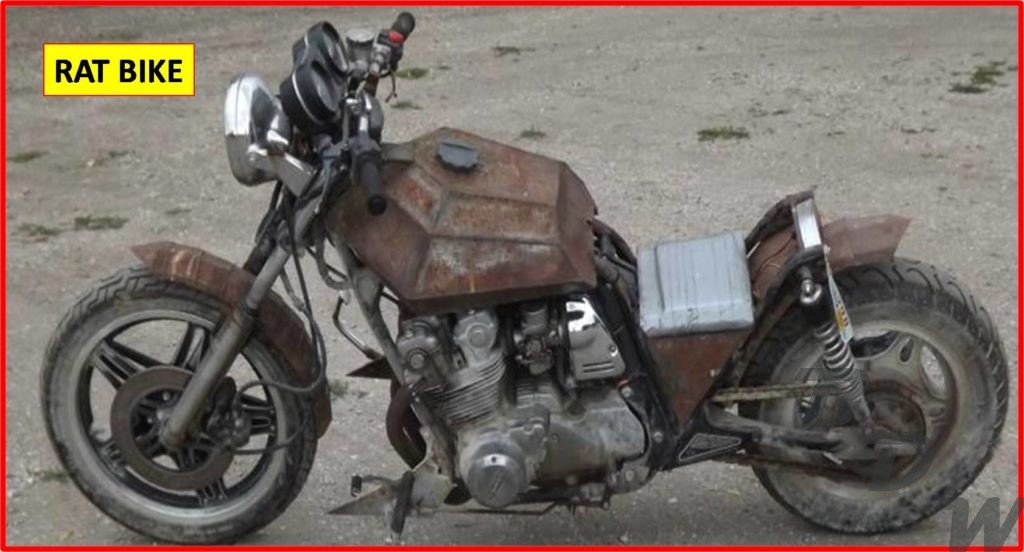 #Drag. Motorcycle drag racing (also known as "Sprints") involves two participants lining up at a drag-strip with a signaled starting line. Upon the starting signal, the riders accelerate down a 1⁄4 mile (0.40 km) long, two lane, straight paved track where their elapsed time and terminal speed are recorded. The rider to reach the finish line first is the winner. Motorcycles in the Top Fuel category are fueled by nitro methane and can make nearly 1,500 horsepower.  From a standing start they can cover the first 60 feet in less than a second and can reach 200 mph in less than eighth-mile or 660 feet. The current world record is held by Peter Svensson of Sweden who covered the quarter-mile in 5.709 seconds on August 24, 2012 at his home track of Tierp Arena. Though currently, drag can be done by almost any motorcycle, but historically the most popular form factor used had been the street or café racers.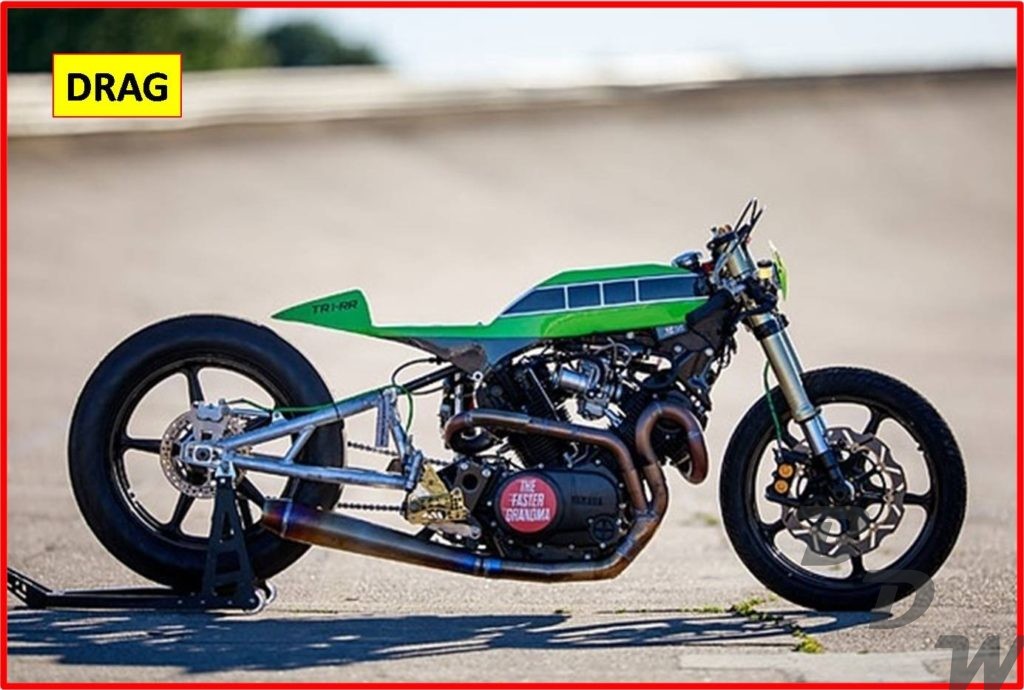 #Choppers.  A chopper is a type of custom motorcycle which emerged in California in the late 1950s. The chopper is perhaps the most extreme of all custom styles, often using radically modified steering angles and lengthened forks for a stretched-out appearance. They can be built from an original motorcycle which is modified ("chopped") or built from scratch. Some of the characteristic features of choppers are long front ends with extended forks often coupled with an increased rake angle, hardtail frames (frames without rear suspension), very tall "ape hanger" or very short "drag" handlebars, lengthened or stretched frames, and larger than stock front wheels. The "sissy bar", a set of tubes that connect the rear fender with the frame, and which are often extended several feet high, is a signature feature on many choppers. Perhaps the best known choppers are the two customized Harley-Davidsons, the "Captain America" and "Billy Bike", seen in the 1969 film Easy Rider.  So, essentially choppers start with a rigid frame and get chopped to rake out and extend the forks; many feature peanut tanks, sprung seats, highway pegs, sissy bars, and ape hangers.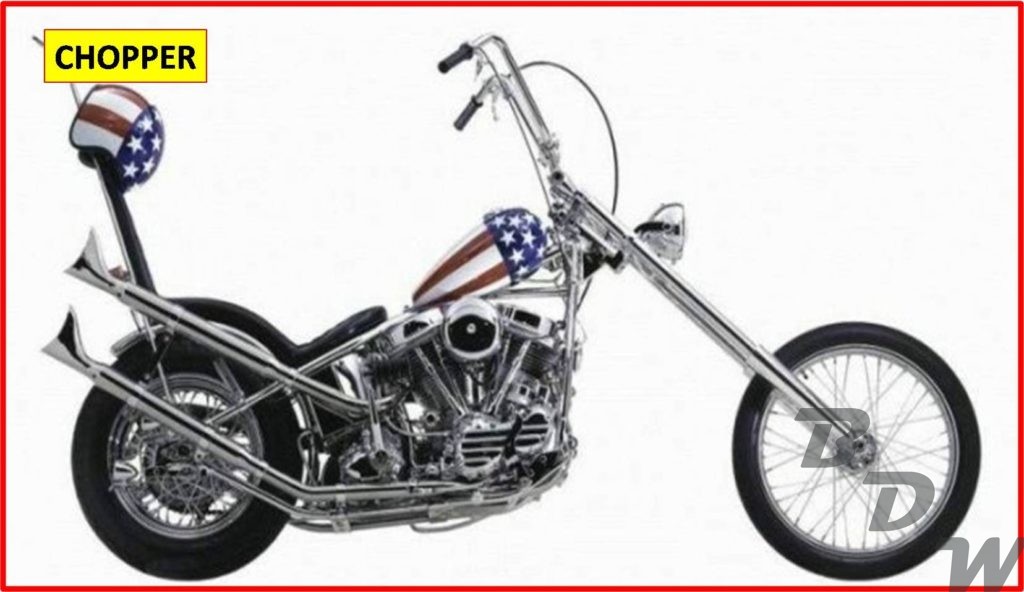 #Bobber.  A bobber, originally called a 'bob-job' from the 1930s through 1990s, is a style of custom motorcycle. The typical construction includes stripping excess bodywork from a motorcycle; removing the front fender, and shortening the rear fender, which is "bobbed" (as in bob-tail), and all superfluous parts removed to reduce weight. The bob-job evolved from an earlier type of American custom motorcycle, the 'Cut Down', which appeared in the late 1920s, and which was based on the Harley-Davidson 'J' series v-twin. By removing the front fender, shortening the rear, and removing all excess accessories, the motorcycle was significantly lightened. The cut-down was also characterized by a modified frame, in which the seat tube was lowered and the wheelbase shortened, resulting in a lower, shorter machine, with a sweeping diagonal line between the steering head and rear axle. Bob-jobs reflected the aesthetic tastes of their owners, and were home-built, there being no commercially produced road-going bob-job available until the late 1990s. In the late 1990s, the term bob-job became shortened in popular parlance to 'bobber', and the style saw a resurgence in popularity in the custom motorcycle scene. The bobber continues to be favored today; although hybrid styles have emerged, such as the "bobber chopper", and "retro-bobber". Such bobbers exemplify the continuing evolution of the style, and its enduring popularity. So essentially bobbers are chopped (fenders and subframe get bobbed) but can have suspensions, low buckhorns or straight bars and always a solo saddle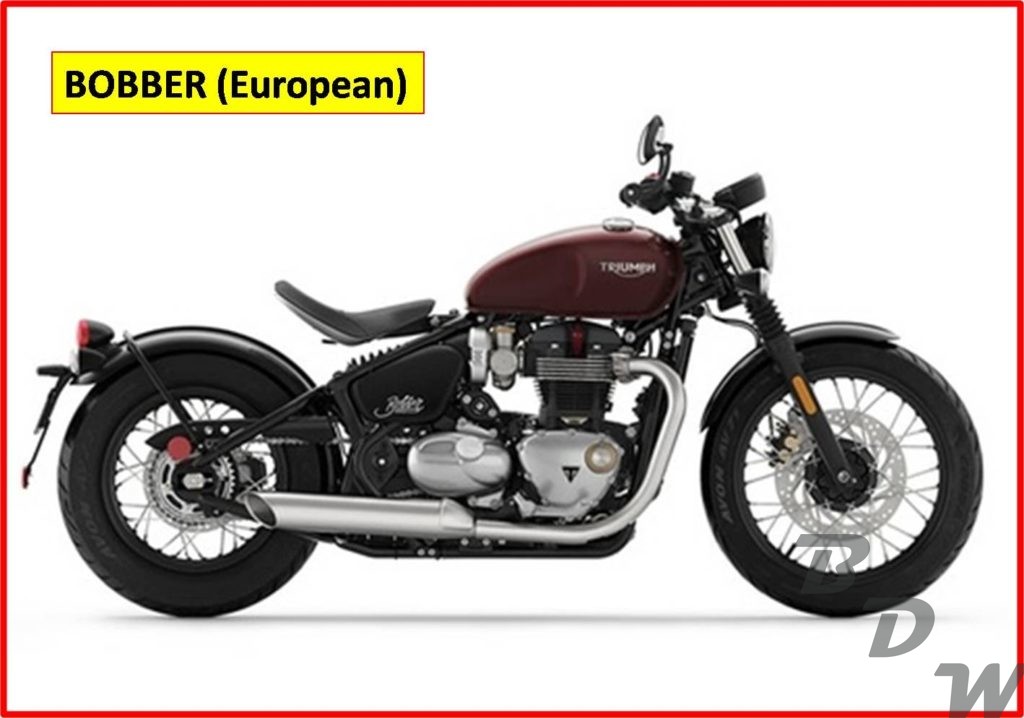 That's all for today. Ride hard, ride safe.