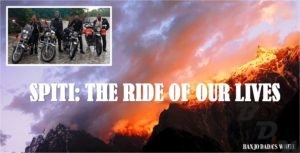 I tried a new method of Storytelling, for the first time … In the form of a VIDEO with My PICS, My WORDS and some MUSIC, showcasing #TheBandOfBrothers latest Motorcycle journey to KINNAUR – LAHAUL – SPITI.
I think I won't disappoint you.
(Please see on full-screen and if possible with a headphone for full effect)
#Dada_GoesTo_Spiti @1
Namu Myōhō Renge Kyō (homage to the true dharma of the Lotus Sutra). As the final day of prep slowly draws to an end, Dada sucks up his breath ….
1. Check Motorcycle fitness …Done
2. Check loading … Done
3. Check Motorcycle move … Done
4. Check Office work under control and leave … Done
5. Check flights, bookings and liaison … Done
6. Check Maps and plans …. Done. The master map which gets updated with days may be of help to Motorcycle travelers.
Tomorrow …
#SeekBlessingsfromMaitreya
#HumbleInFrontOfMountains
#QuestForHappiness ….
23 June 2017
Third day riding… trip meter 650 KM…Gurgaon…Chandigarh…Shimla…Kufri…Narkanda
Blessings from friends and families….abundant blessings from the rain Gods enroute ….Gedi Route in Chandigarh… highway tea, Aloo Parathas and highway mechanics (all magically wonderful)… hair raising down slopes…narrow winding roads amid pine forests…waving children… beautiful locals… beautiful vistas…apple orchards….riding alongside the mighty Sutlej…magnificence, grandiose and the humbling might of nature… hand and horn signals between the gang… tired backs and sore bums….balancing loads on the bike…balancing anxious and worried families back home and my excitement for the days ride ahead….very early mornings….daily morning briefing and debriefing …Bar O Clock with best buddies (drinking) at night ….
25 June 2017
Sixth day riding… trip meter 943 KM….Narkanda…Sangla…Chitkul…Kalpa…. Rekong Peo… Pooh…. Khab… Nako Lake… Nako Monastry…. Amar homestay at Nako village…Sumdo…Gue Monastery with a 800 year old mummy…. Tabo (oldest monastery in the western Himalayas)…Kesang Home stay at Tabo
Highlights
…Aloo Parantha is officially the highway food of India
…mountain roads in bad condition at 12000 feet and above are difficult to ride on and pretty scary and it shows you are scared no matter how hard you try…
…never look down the gorge when riding .. old riding saying that you reach where you look…
…. you can always bank on Army detachments enroute
…. mountain sickness will affect you more when you are riding
… homestays in this circuit are amazing
….monasteries have a rich history and heritage and Lamas are great at narrating it
… there's no match to Old Monk after a hard days ride
Halfway through… half to go
26 June
Seventh day riding… trip meter 1027 KM
Tabo…Dhankar…Kaza
We set out for Mud Village after a late night and late sleep in. A civilian biker gang got our goat the night before so we had to show them who's the boss. We were all groggy and tired this morning… not to mention sleepy, short of breath and mentally exhausted. Our first pit stop was Dhankar Monastry… along the way and on the road itself before we would cross Spiti River for Mud village in Pin Valley. Well, like on so many earlier occasions the local info again turned out to be wrong. Find out yourself is the norm here. The monastery was way off and above the main road … treacherous riding conditions. The view from Dhankar though more than compensated for the diversion. With nothing more to do except park in Mud village and being just 20 KM short of Kaza.. the hub of Lahaul Spiti… we decided to head for Kaza itself and grant us the luxury of another days rest. Our bikes need tending to and so do our tired bodies and minds. Found a good homestay in the centre of town and met a lot of riders returning from the opposite direction. The ride to Chandrataal and on to Manali is going to be challenging and will test our bikes and riding skills to the extreme. We need to shed some load and if possible parcel it home by India Post or the Border Roads guys…plus do something about spare fuel as there is no petrol pump after Kaza up until Manali. We ll mull over these things and more over drinks tonight….
01 July 2016
Twelfth day Riding… trip metre 1360 KM
Kaza…Losar….Chandrataal…Battal…Chattru…Grapmphoo….Koksar…Rohtang Pass…Manali…Kullu
Fresh after a days sabbatical at Kaza we set out to see the sights near Kaza. Ki, Kibber, Hikkim (with the World`s highest Post Office) and Komic (the highest village in the World connected with a motorable road). The ride was comparatively easy except for the ascent to Komic which tested us and rewarded us with a beautiful view of the Kaza valley. A refreshing evening at a local bar with amazing strumming and live singing was the unexpected icing on the cake of our little holiday at Kaza. Next day, the ride to Chandrataal turned out to be much much more treacherous than we expected. Incessant rains made the slopes even more slippery and unstable… the water crossings became plain dangerous and tested the riders and their machines to the limit… many holidayers were stuck at several water crossings along the Chandrataal Gramphoo stretch and lending a helping hand to them besides lugging our heavy giants at times took a heavy toll on our ageing bodies especially with hypoxia playing havoc with our senses. After 18 water crossings… many stretches of slush and mud…treacherous slopes we were at the edge of our nerves and decided to call it a day at Koksar… this pit stop was not planned but turned out to be the most comfy stay which we had had so far.
The next day's tide to Rohtang Pass and onwards to Manali and Bilaspur was supposed to be an easy one. But I suppose upar wala wanted us to have some more fun… so we ran into three landslides… on the second one we had to lift our bikes and get them across large boulders which had strayed onto the road… the last one took the cake as it had to be blasted away and dozed aside… hats off to the Border Roads guys for doing such special and yeoman service. Finally had the first bite of the day at close to sunset… we checked into a highway motel outside Kullu a little after sunset. Though the last couple of days have been very challenging but each moment of these days will remain etched in my memory for very very long
Ride to Chandigarh tomorrow and then back to Gurgaon
03 July 2017
Thirteenth day riding…. trip meter 1984 KM.
Kullu….Mandi…Bilaspur…Swarghat…Pinjore…Panchkula…Ambala…Panipat…Sonipat…Delhi…Gurgaon
The ride to Chandigarh started a little late after we all treated ourselves to a sumptuous breakfast. Frequent congestions due to heavy and unruly traffic slowed us down considerably. We bid farewell to Bhatta who branched out a little while after lunch. Just as the realization was dawning on us that the ride was coming to a close… almost as if on cue the rain started pouring. That got our focus right back to the rest of the road ahead. A suggestion by someone to take another road to cut down 50 odd kilometers actually gave us yet another round of off-roading as the so called road was nonexistent. We finally reached Chandigarh at dusk and checked into our rooms but not before some lovely tea and snacks by Archie's folks. The day finally came to a close with a couple if course mates who dropped by to look us up… with rum and snacks…
Obviously a little groggy the next day… Banjo and I clocked empty highway miles to Gurgaon in the sultry North Indian pre monsoon weather and there's pretty much nothing to write about that. I ended the ride at Gurugram… Banjo is still on his way to Agra and onwards to Calcutta (Iron Butt) while Archie gets back to base at Indore.
As the trip ended for me Banjo and Archie are still blazing the road to Kolkata and Indore…fair winds to them.
Ride of my life…couldn't have done it alone…loved each moment of it with the Gang, you were awesome all the way