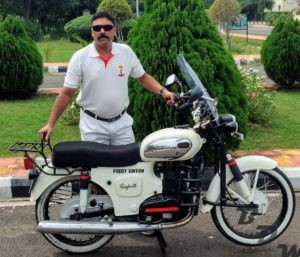 #PADDY_VIKRAM, the grand old 2 stroke motorcycle, carrying the legacy of two fallen brothers will go with me to the #Distingished_Gentlemans_Ride (#DGR).
I had spotted a dilapidated Rajdoot Excel T Motorcycle in a junkyard and had picked her up for literally pittance. I was looking to do something to commemorate the sacrifices of two of my brothers, very close to me; PV Vikram, Sena Medal (Posthumous) and Padmanabhan KE, Sena Medal (Posthumous), who had made the supreme sacrifice very early in their profession, at the service of the Nation; and what better way for me, other than #Restore a Motorcycle with their name. Thus #Paddy_Vikram was born.
The Rajdoot Excel T is a 173 cc two-stroke motorcycle that was made in India by the motorcycle division of Escorts Group inspired by the 'Soviet Styled' Polish SHL M11 175 cc motorcycle under the brand name Rajdoot from 1962. Rajdoot sold about 1.6 million black motorbikes, in the Excel T and Deluxe models, until it was phased out due to Euro II emission regulations.