#LessonsFromTheRoad 505 kms done in Day 1. Reached a place called Fulbari (between Shiliguri and Dhupguri, booked into a cheapo lodge, took a big crapp, bath in cold water and enjoying my Old Monk with Lays potato wafers … Some hurriedly written practical lessons for all Motorcycle enthusiasts to note and newbies to imbibe :-
1. Himalayan
Absolutely marvellous in her class in bad roads, potholes and no roads.
Can take sustained high speeds of 100+ kmph for long period with no loss of control.
The double disc floating calipers are a marvel …absolute control at 10-120 kmph.
The dreaded Kui-Kui sound came for 10 minutes … I shouted loudly thrice "Bullet Baba ki jai" … and the sound miraculously went away.
Undoubtedly the BEST machine in the RE stable as on date. 2. #Route (a) Terrible is the word. 80% is double lane only with numerous potholes and breakages.
A good shortcut exists from Botulkhali to Islampur …which reduces distance by about 30 km and avoids the fiasco at Dalkhola. However beware of running children and poultry.
3. Pinlock
Absolutely must… forget the Brand of helmet (Nobody in this world can guarantee one brands superiority over another) … but the PINLOCK lens is a Must. However beware, Pinlock is NOT 100% antifog or antiglare. But whatever it does makes it a MUST HAVE.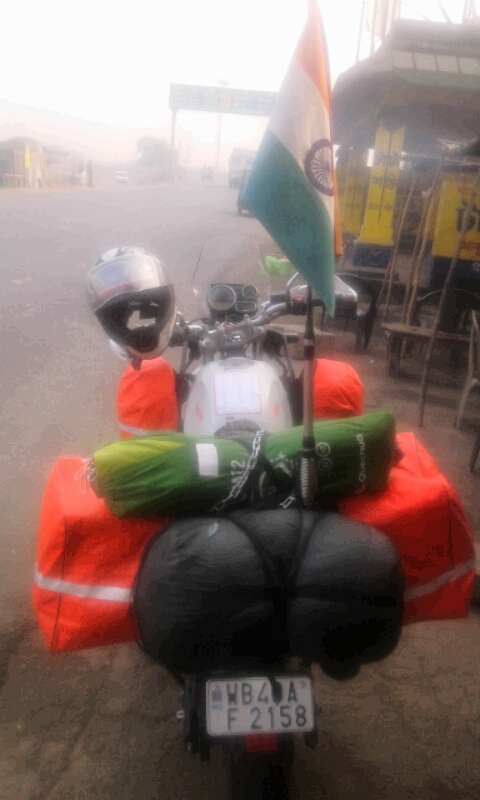 4. Loo
I was having some loosie and had to take three short Crapp breaks. RELIANCE petrol pumps have the cleanest and best loo. 5. #NoVCutUndie – I myself made the mistake which I always tell others … hence reiterating … never wear v cut undies … go commando or wear boxers.
6. Settledown
Nobody can sit on day one and clock 80 kmph from the start during long rides. Give the body and mind time to settle down … it'll take two hours for newbies to find the best posture, angle, etc.
7. #KnowYouLimit
Know your strength and weakness, never get carried away by circumstances and others.
8. #Brunch
Avoid too much eating, a 10 o'clock rice and fish and later 2-3 cups of tea is good to sustain a huge Bong like me.
9. #TryNewThings
Make new friends, eat new food, try new riding techniques … you are on the road for that only
10. #SafetyGear
At day end when every muscle is giving away, the mind tells to throw all safety gears. Be strong … never ride long without gears.
11. #CarryYourRum
The best rum is the end of a 500 km ride rum.
Cheers … #QuestForHappiness