DAY – 2
Rode 387 km today and halted for the night at a small town called Pathshala, a little short of Nalbari. Could've travelled more, right upto Guwahati, but wanted to break the destination-mania and rest the saddlesore bum early.
#NoPepsi – The entire town does not have Thums-Up, CocaCola or Pepsi, hence today's Old Monk is with water and more therapeutic than recreational.
#WokeUpLate – Today morning, woke up at 6 (alarm was set at 4), and hence could only start by 7. Missed the opportunity of meeting Sayan from Jalpaiguri. Lesson learnt; sleep early, start early.
#MysteriousBengal – The beauty of Bengal is simply breathtaking, and I had decided to soak in even if I do lesser miles today, after all riding is not only mile crunching. Range after range of Forest and Tiger reserves passed by, I felt thrilled to the bones with the mystery of the canopies of trees and endless tea gardens (see photo). Numerous beautiful rivers, Teesta, Raidak, Sankosh add to the quintessential Bengal beauty. Racing a train on a motorcycle was a childhood pastime which I did again today (see picture)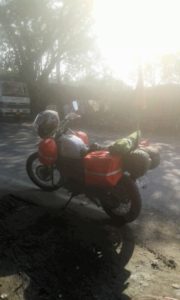 #PoorRoadsPoorBengalis – The road from Dhupguri Moynaguri Birpara Hashimara is almost non existent in many places. Enjoyed a total of 40 minutes of standing offroading. People in this region are essantially poor; the ethnic and tribal background, lack of infrastructure, sidelining from political mainstream makes my favourite NorthBengal a breeding ground of future insurgency, if not checked early.
#GoluLovesChowMing – My royal breakfast of twenty rupees consisted of 4 poorie -sabji, one huge pantuya Gourab corrected me ..It's chhanar jilipi (Bengali gulaabjamun but much better) and tea (see photo). There made friend with a ten year old Golu who hates poori, hates rice and fish and simply loves CHOW-MING and BARJER (Ohh Sweet God !!) …. makes me wonder how long our National Treasures of litti-chokha, rosogolla, Vadapav, Uttapam, khakra, jhaalmoori, velpoori, golgappa will rule the roost.
#BeatTheDehydration – Since I was travelling with loosie, the home grown recipe that keeps me going did its work. 12 squeezed nimbu juice, 75 gm Glucon D and 6 teaspoon of common salt well mixed and carried in bottle (see photo) … During a break mix with water and drink. Fights everything from dehydration to loosies being a good ORS.
#HighwayIsHome – Did 100 kmph for the last 200 km only … but then Highway is an Indian's Home. Coming from wrong side, animal tendering, family chitchat and even crapping is destined for Highways. Frustrated, yes …but that's my Nation … how can I be angry ?? It's us only ….
#TimeStandsStill – 15 years back I used to visit a sweet shop in a village near Shamuktala frequently wrt gathering some information from locals at the grassroot level. Visited that shop … nothing has changed (see photo) … same furniture, same food, same owner (who didn't recognise me) …only the crowd of young guns who discussed tyranny and freedom then … discusses Facebook and women … We have progressed or regressed ??
#YeDilMaangeMore – 892 km in two days, saddlesore is inevitable and there … but Ohh … it's so sweet. That makes the rum taste better. As every muscle and bone cry out … my heart shouts … THE ROAD IS CALLING .. WHERE ARE YOU ?? Tomorrow is another day, Kohima calls …
Cheers !!! #questforhappiness