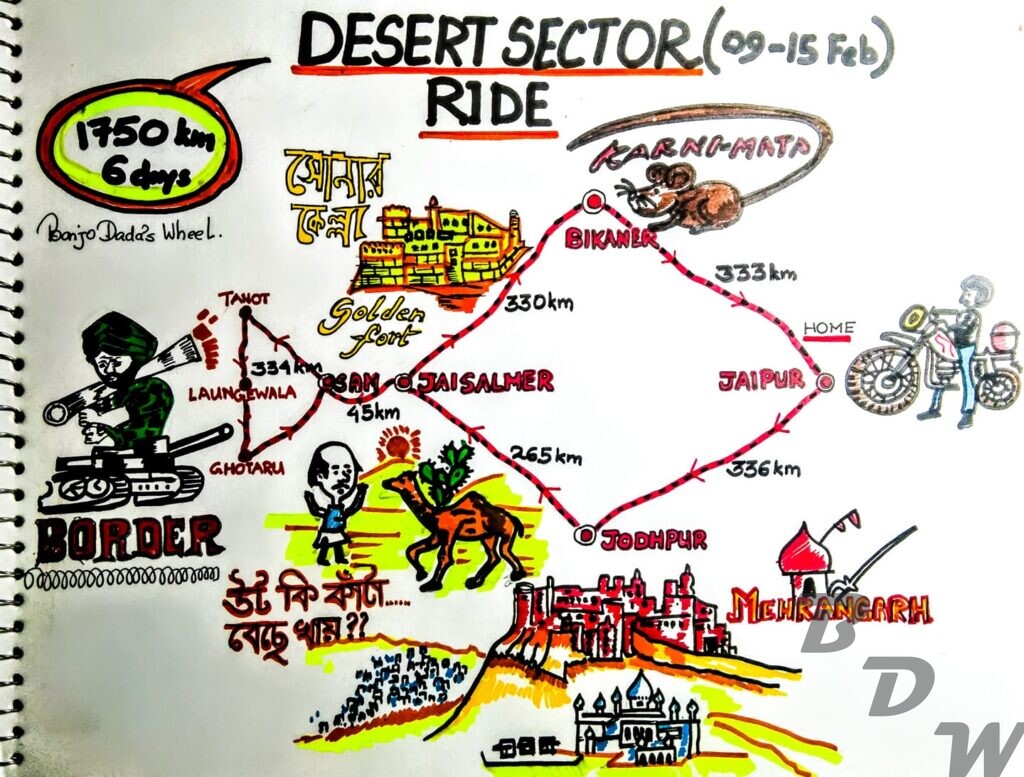 Wheels will turn always… "বুঝলি তোপসে, এবার চশমাটা নিতেই হবে, পঞ্চাশ ছুই-ছুই, চোখের আর সেই জৌলুস কোথায়? মগজাস্ত্রটা অবশ্য এখনো ধারালোই"… #সাথে_থেকো_ভাইরা
Finally, the day arrives
#Shwet_Agni has new tyres, chain & sprocket, timing chain, fully serviced and stands growling. The saddle is loaded and Dada rolls out right now. The desert-sector of Rajasthan, or #Marwar is the ride destination for next 6 days. Will keep talking to you from the roads. দাদার আর শ্বেত-অগ্নির সাথে, #মারওয়াড়ের স্বাদ পেতে, সাথে থেকো বন্ধুরা। #Jodhpur calling.
#From_the_road
A short breakfast pitstop at a roadside dhaba in Raipur, after a very cold winter dawn. 130 odd kms to Jodhpur. Inspite of the varied parathas on offer opted for the humble #poha (চিঁড়ের পোলাও) reclining on a #khaat. Hopefully, poha eating will not get me branded as a Bangladeshi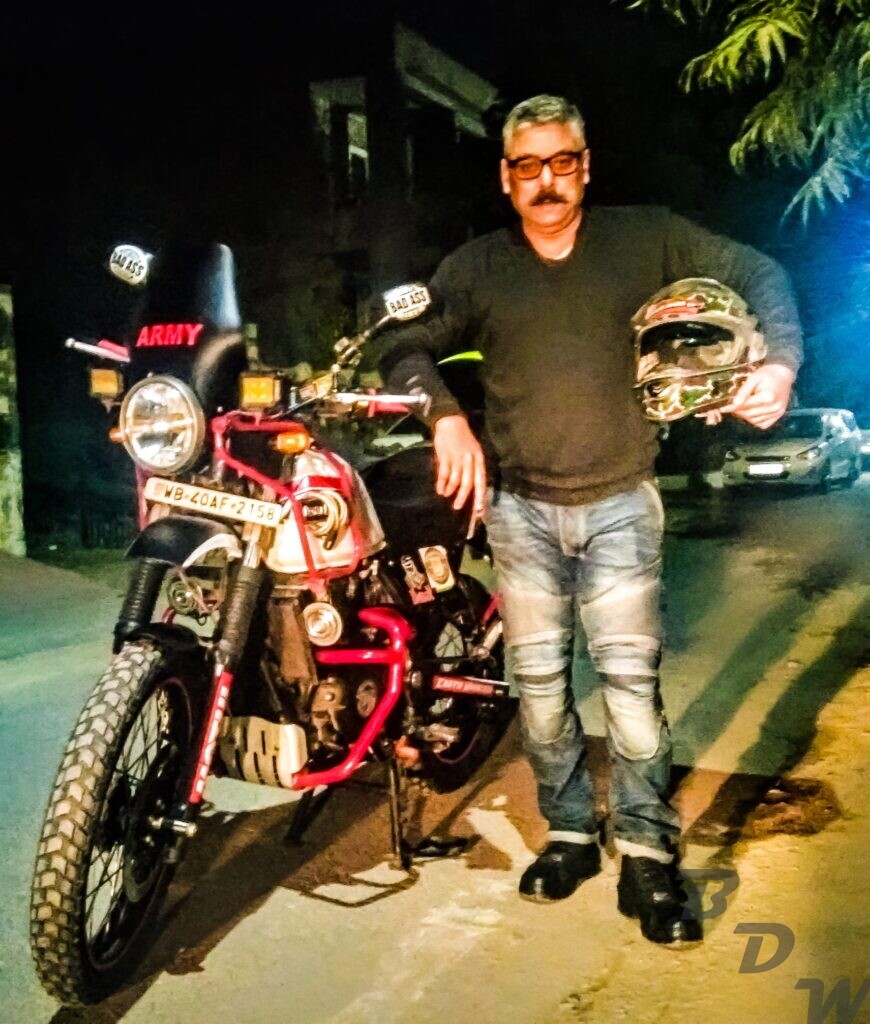 Offering my humble #Rum_Quarter and Rs 100 to #Om_Banna #Bullet_Baba at #Chotila_Dham. The guardian angel of all Bikers…
Finally, in front of Mighty #Mehrangarh_Fort…
I was mesmerized at the view from #Jaswant_Thada. But will reiterate my point… Google shows a pic clicked by a pro with pro equipment and huge patience (perhaps from helicopter or drone), he gets money for that. Its beyond the capabilities of us mere mortals to see or capture that. But what we see, is awesome enough, be happy
At the #Umed_Bhawan palace, checking out the opulence and riches of the erstwhile and current Maharajas…wtf man!!! If God gave me that much money, even I would have 30 Maharanis, quite a few Lamborghini Venenos and Honda Goldwings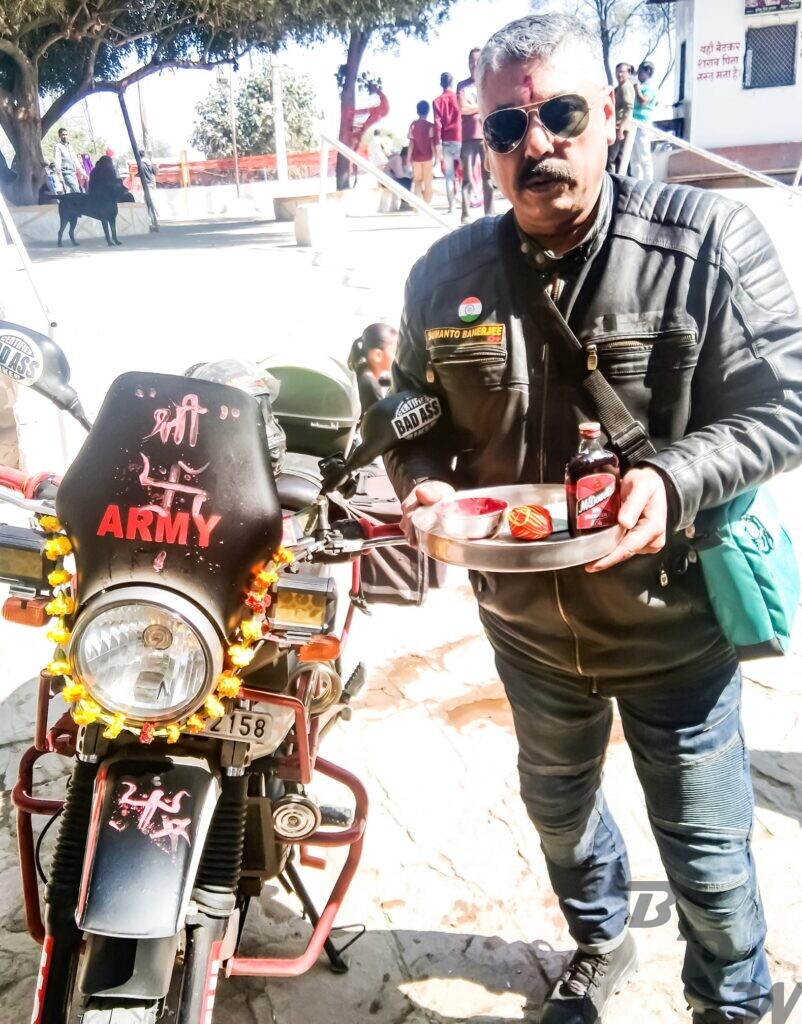 Checked in at a humble #Oyo_Room for the night. Dinner is also a humble #Chicken_Afghani (courtesy #Swiggy) with a humble wee bit of #Old_Monk
.. Charging up to get rid of today's exhaustion, and getting ready for tomorrow. #Jaisalmer calls.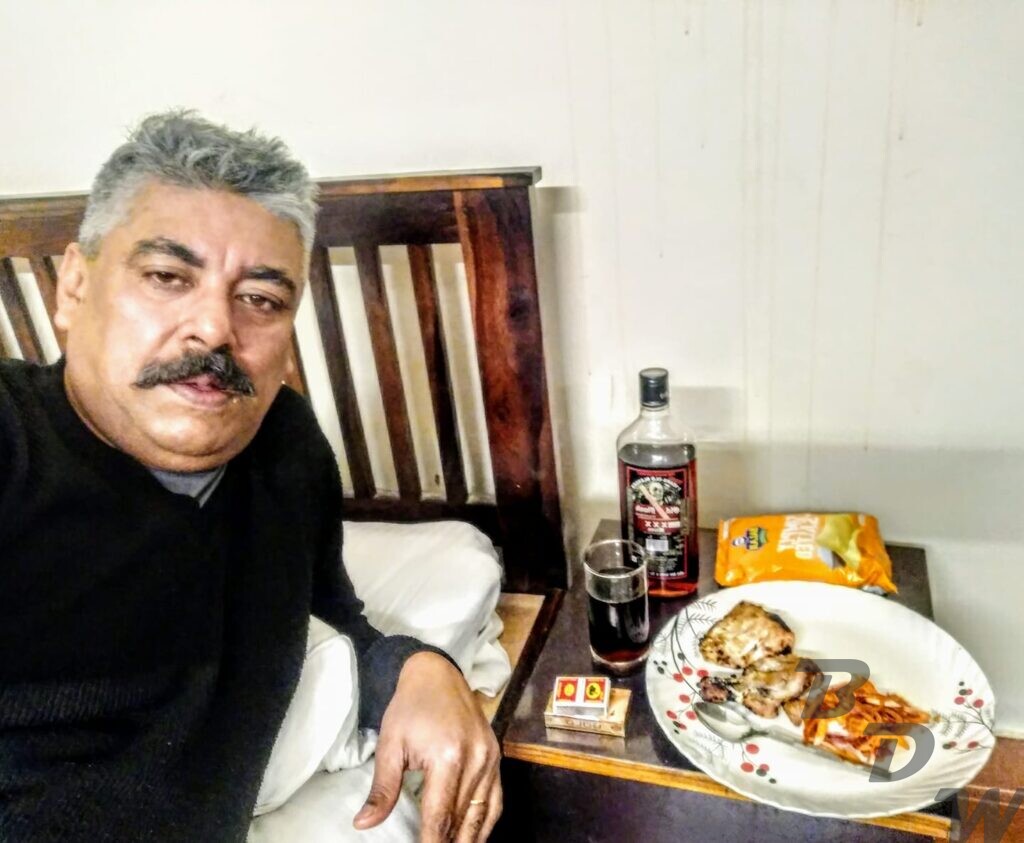 Endless roads, Desert, petrol in my veins… ধমনিতে আমার পেট্রলের নেশা… এখানে স্পীড লিমিট নেই, 120 kmph এ চলছি (এর বেশি স্পীডে আমার গাঁড় ফাটে, বাচ্চারা আরও পারবে
)
At the trijunction of #Pokhran, #Jaisalmer and #Ramdeora, had spent a good part of my life here, reliving memories. A quick breakfast break, this time its #Masala_Maggi (masala means some tomato, onion, pea added). আর জটায়ূ-তোপসে এখানে হাত-পা ছাড়িয়ে নিতে একটু এক্সারসাইজ করেছিলো, তাই আমিও করে নিলাম… #Sonar_Kella calls
Took a stop at the #Jaisalmer_War_Museum, colocated with the Military Station. The JWM was inaugurated and opened for public viewing on 24 August 2015, the day of Golden Jubilee commemoration of the India-Pakistan war in 1965. The museum houses two information display halls, an audio-visual room and a souvenir shop. It also has an Honour wall with names of winners of the Param Vir Chakra and Maha Vir Chakra. Along with tanks, guns and military vehicles, the display has a repertoire of trophies and vintage equipment.
#Don_Quixote#Sancho_Panza with #Rosenante and slaying some giants … #Desert_Madness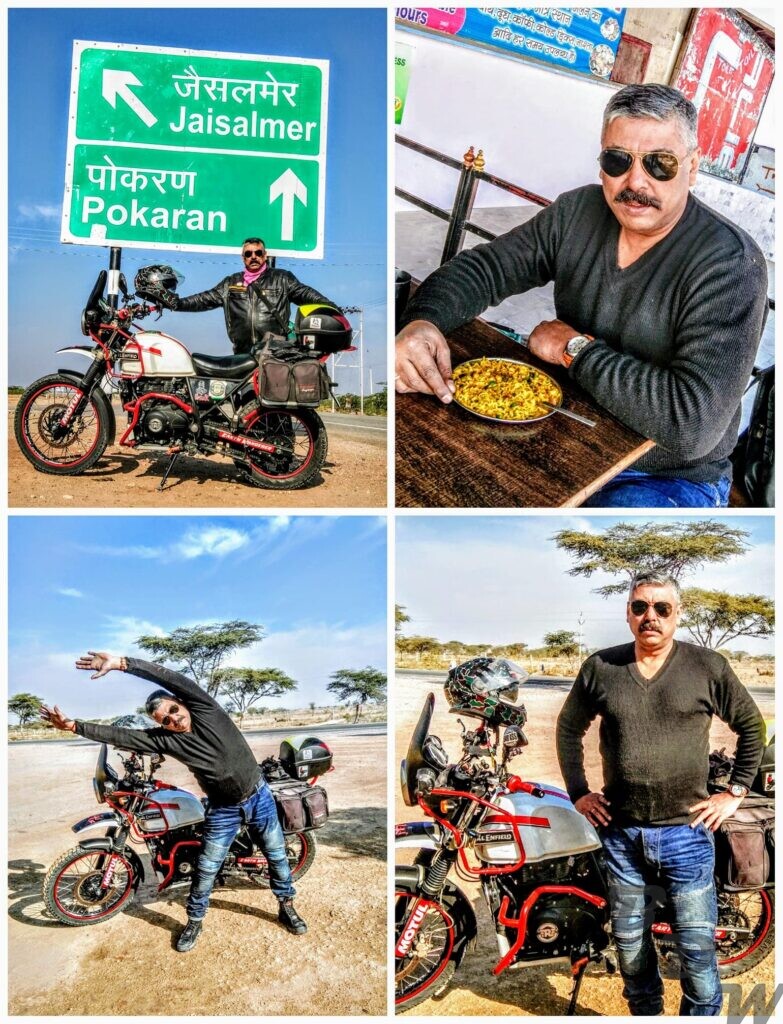 At the ghostly village #Kuldhara, deserted overnight. Various legends including those of ghosts exist… But the most plausible is that… All 84 villages of #Paliwal_Brahmins deserted due to torture by the local minister #Salim_Singh, and shortage of water. Exploring the ruins is a sure eerie feeling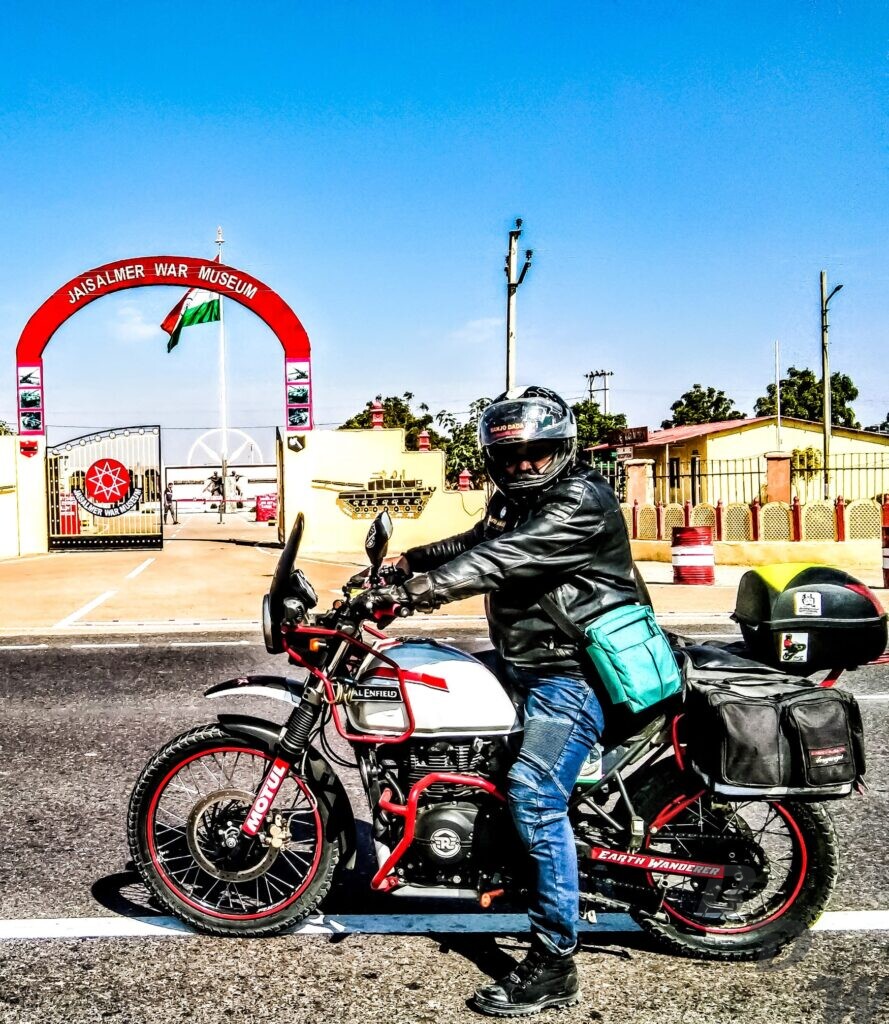 I am in love with the setting sun. Riding the dunes in leisure and speed, savoring the sunset over Thar, with my pet for today, #Jabbal_Singh, the camel; he loves jaggery (gur), খাইয়েচ্ছিও একটু গুড় শালা উটের বাচ্চাকে, মুখের কাছে হাত নিয়ে গেলে শালা শুয়োর (সরি, উট..) ফ্যাঁচ ফ্যাঁচ করে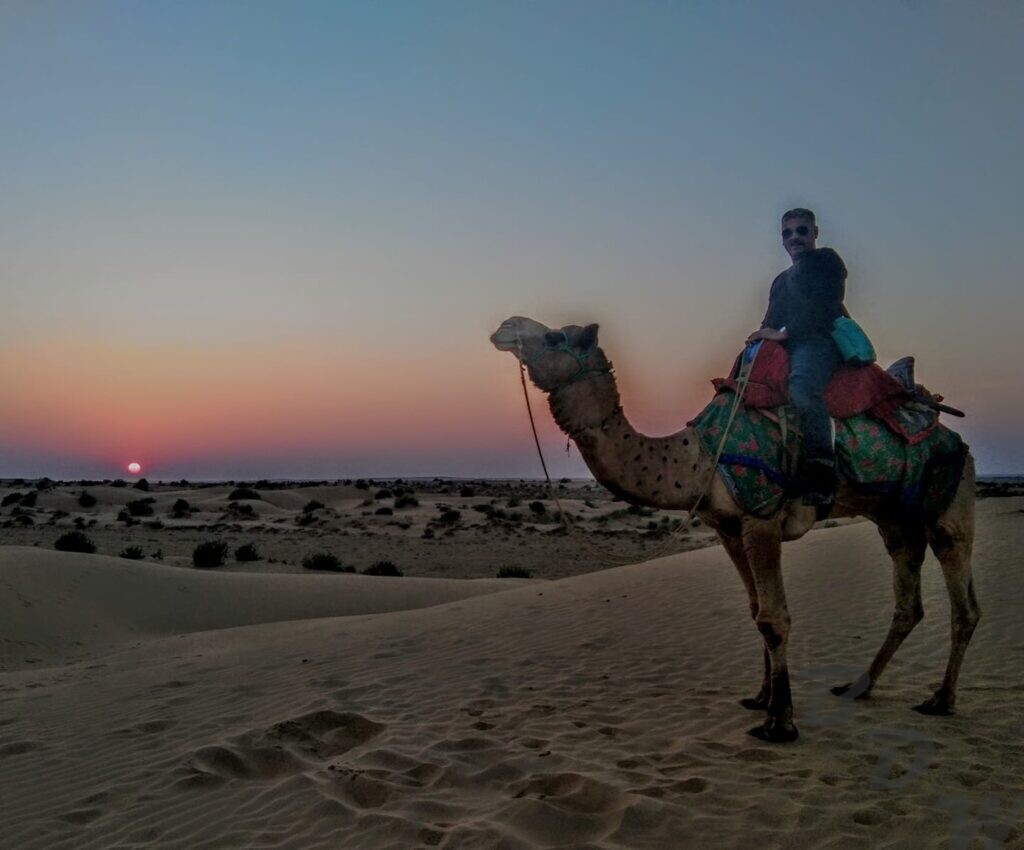 Settled in my abode for the night; the Desert #Banjara_Camp (albeit very posh). A #swiss_tent with all amenities… #Old_Monk in glass… Waiting for the #campfire and #cultural_programme to start.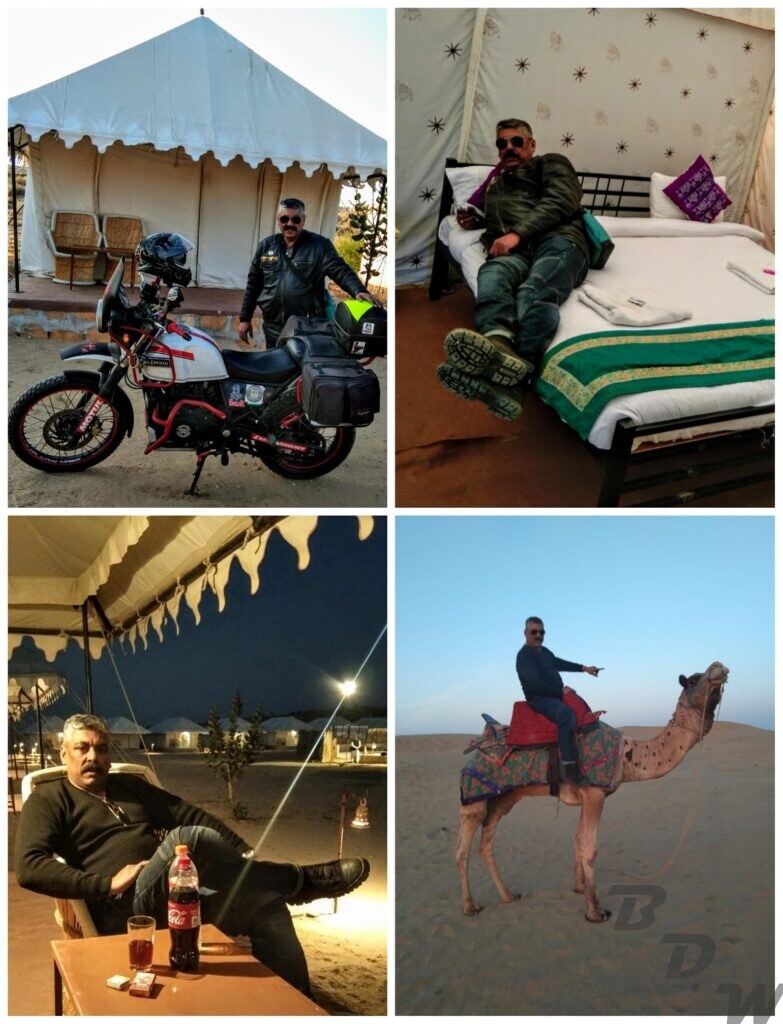 The full-moon and star laden night is accentuated by the Rajasthani song and dance… Desert slowly embraces me, and makes me her own… #মরুভূমির_আমি.. মাল্ খেয়ে সুন্দরীদের সাথে দাদার নাচটা দেখে আওয়াজ দিতে ভুলিস না
Proud privilege to pose for the advertisement campaign for the #Desert_Camp with traditional #Dal_Baati_Churma… বাঁড়া কাউকে বলতে পারছি না… "যেখানে যাচ্ছি শালা #ডাল_বাটি_চূর্মা খাওয়াতে সবাই ব্যাস্ত হয়ে পড়ছে; খাবো না আর শালা ডাল-বাটি-চূর্মা; অত্যন্ত বালের খেতে… যে কোনো দিন আমায় চাওমিন-চিলিচিকেন দে ভাই…"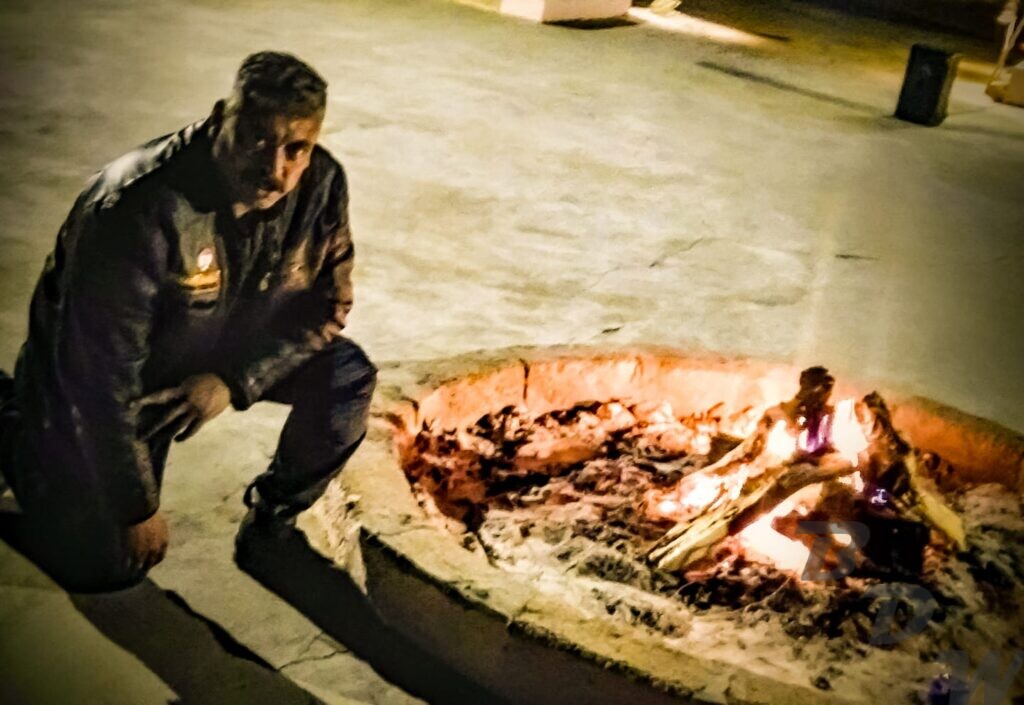 As the sun rises slowly across the vast horizon, #Shwet_Agni chugs towards interior deserts, where battles were fought to keep India safe …. #Tanot_mata calls
At the #Tanot_Mata temple in Tanot. An incarnation of Devi Hinglaj Mata, the Tanot mata temple is of great reverence to Indian Army and BSF. During the 1971 Pakistani aggression along the Western Borders, Tanot was shelled extensively by Pak Artillery. The only spot where not a single Pak Artillery Shell landed was the Tanot Mata temple. It is believed, Mata protects all soldiers. Other than darshan, also tying a white handkerchief while asking for wishes is a common practice; tied my bikers kerchief there. Let blessings of Tanot mata permeate all our lives.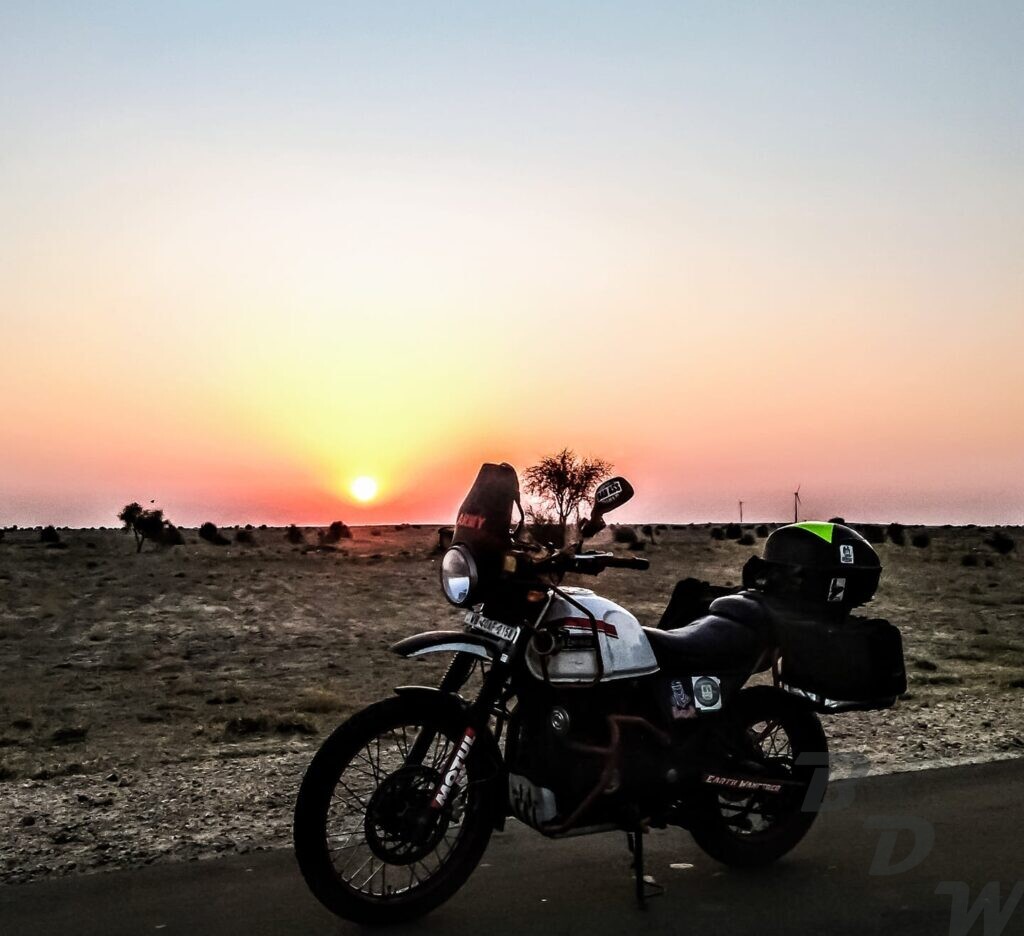 At the #Laungewala Defended Locality, paying respect to fallen soldiers. Laungewala was one of the first major engagements with Pakistan in the Western Sector in 1971. The misadventure of Pakistan with 45 T-59 tanks and the bravery of Alpha Company #23_PUNJAB along with gallant actions of Maj KS Chandpuri, Lt Dharamvir, Subedar Rattan Singh, Sepoy Mathuradas, Sepoy BishenDass, Sepoy Jagjit Singh, Sepoy (Cook) Bhagiram, Dafedar Harbir Singh and Lance Naik Bhairon Singh (BSF) has become folklore in every Indian home. Its a matter of honour and pride to share battle-space with such names. Long live the Armed Forces, #Jai_Hind.
Finally… #Sonar_Kella… #সোনার_কেল্লা… মুকুলের বাড়ি খুঁজছি
#Sonar_Kella_Revisited. #সোনার_কেল্লা #ফিরে_দেখা.. Little boy Mukul and his search for the previous life, Rajasthan, camels, peacock, forts, deserts, Dr. Hazra – the original one and the fake one, the fake globe trotter – Mondar Bose, Felu Mittir, Topse and above all the great Lalmohan babu, our own Jatau. All these reminds us of one thing – Satyajit Ray's unforgettable creation – Sonar Kella. It was a fruitful search, walking the alleyways of the fort, searching and finding Mukul's home, finding Mondar Bose's stairway, finding the cannon overlooking the desert city, clicking some selfies and shopping knickknacks for kids. Sonar Kella is a bit more crowded and modern, still the charm of the times of Mukul's past-life, Feluda's time… Is visible… To those who know Where and How to look.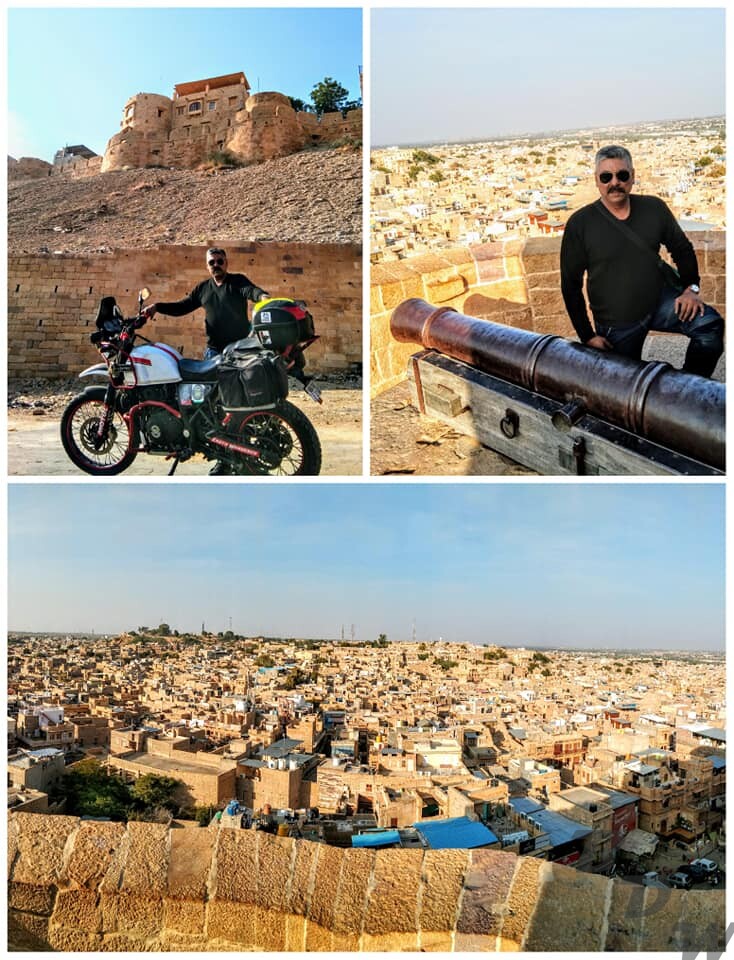 #Bhaang_Lassi and #Sunset_on_Gadisar_Lake… The sunsets slowly over Thar desert and the desert town of Jaisalmer, Sonar Kella settles to a lazy slumber… And Dada took a leisurely #Boat_ride on peaceful and tranquil #Gadisar_Lake, sipping on some Bhaang-Lassi (keshar pista makhani malai). The water turns from gold to red to green to black… slow chants of mantra and fading chimes of the bell from the temples permeate the air… #Bhaang spreads slowly over the blood, limbs and head. It's not the fast intoxication… The slow and gradual opening of the intellect, senses and being… Moonlighting life itself… The rhythm of Shiva's dance sends a blue electric over the senses… Good, bad, black, white are prominent… grey vanishing slowly, Peace tranquility prevails… Shiva is in the air, water, sky, self, everywhere. That's why Bhaang is Shiva's prasaad… #Boom_Shankara… #বোল_বম্
Its dawn and we move towards #Bikaner, the producer of the best camels in the world. I ride on… like a Rajput on battle atop his stately steed.
Crossed #Ramdeora (This Baba Ramdev used to sit on horseback and fight with sword)… আর এই উটগুলো "কাঁটা বেছে খায়" বলে তো একদমই মনে হলো না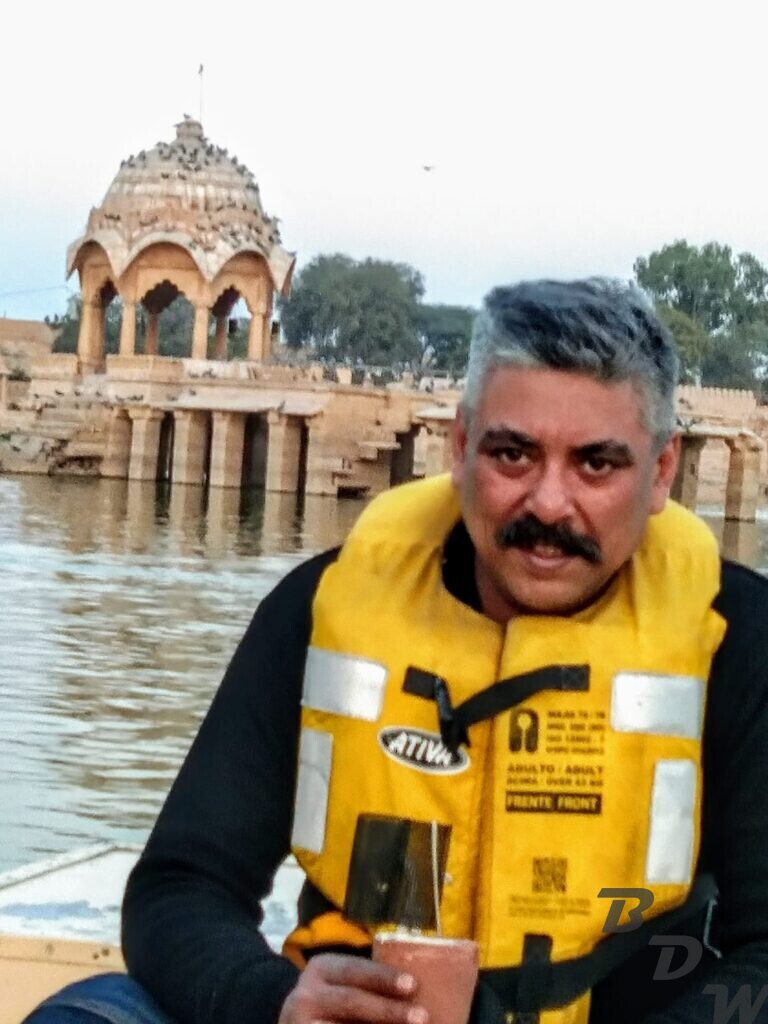 Chose to ride through interior wbm roads towards Bikaner. 102 kms of crossing dunes, dhanis, tobas and sar… A bit worried… Around 40 more km to the #Karni_Mata or famous #Rat_Temple. Bash on… Regardless
At the #Karni_Mata_Temple, Deshnok; more popularly known as the #Rat_Temple of India. Words cannot describe the experience… Millions and millions of rat, in peaceful coexistence with humans… without any major epidemic breaking out!!! One feels a bit shaken up in presence of so many rats… Running over one's feet, you are afraid that you might step on them. মন্দিরের পূজারীরা আমায় বলছে "চূহা ছোড়ো, মাতা কা দর্শন করো"… আর মাতা!!!! আমার তো অত ইঁদুর দেখে গাঁড় ফেটে বিচি টাকে উঠে গেছে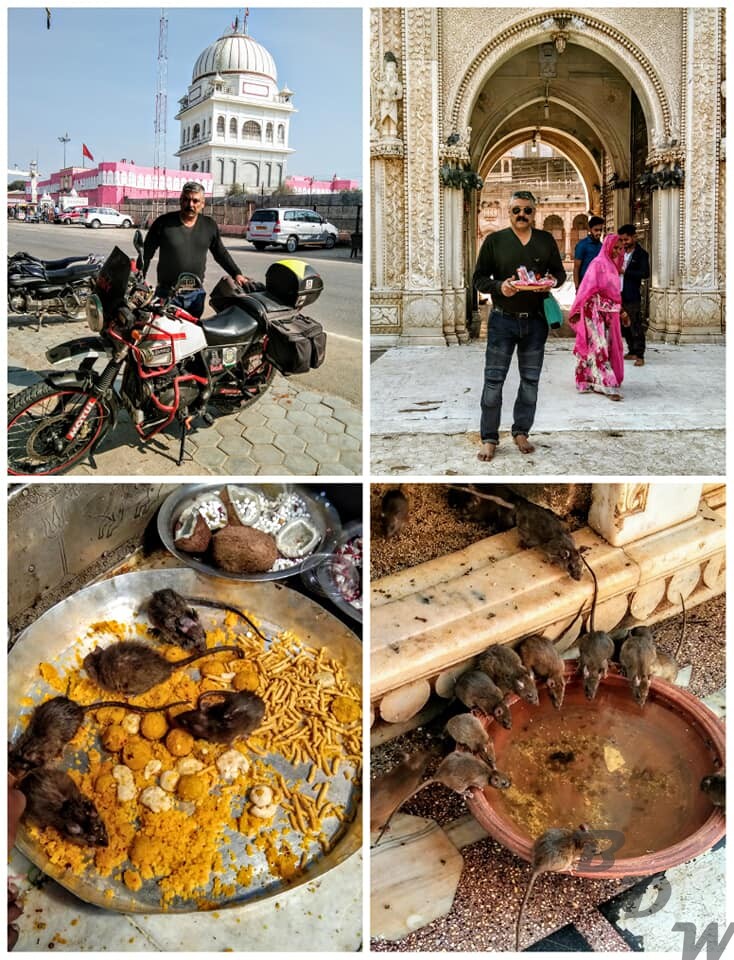 Reached and settled in #Bikaner; but not before taking a quick look at the #Junagadh_Fort (which went out of Rajput control only for one day, when Babur's son won it, but was won back by Rajputs after a day). I reached the #Lalgarh_Palace too, but that being a Hotel now, I couldn't go in. The day ended with a visit to #URMUL (Uttari Rajasthan Milk Union Ltd) run fabric showroom #ABHIVYAKTI, to do some shopping for #Boudi. For those that don't know #Fab_India does their resourcing from URMUL, and sells at 6 times the original cost. (দাদা-বৌদির কত প্রেম, দেখে শেখ সব বাচ্চারা…. প্রেম না হাতি… বাড়ি পৌঁছোলেই বৌদি উদমা কেলাবে, তাই একটা দারুণ গিফট নিয়ে যাচ্চি)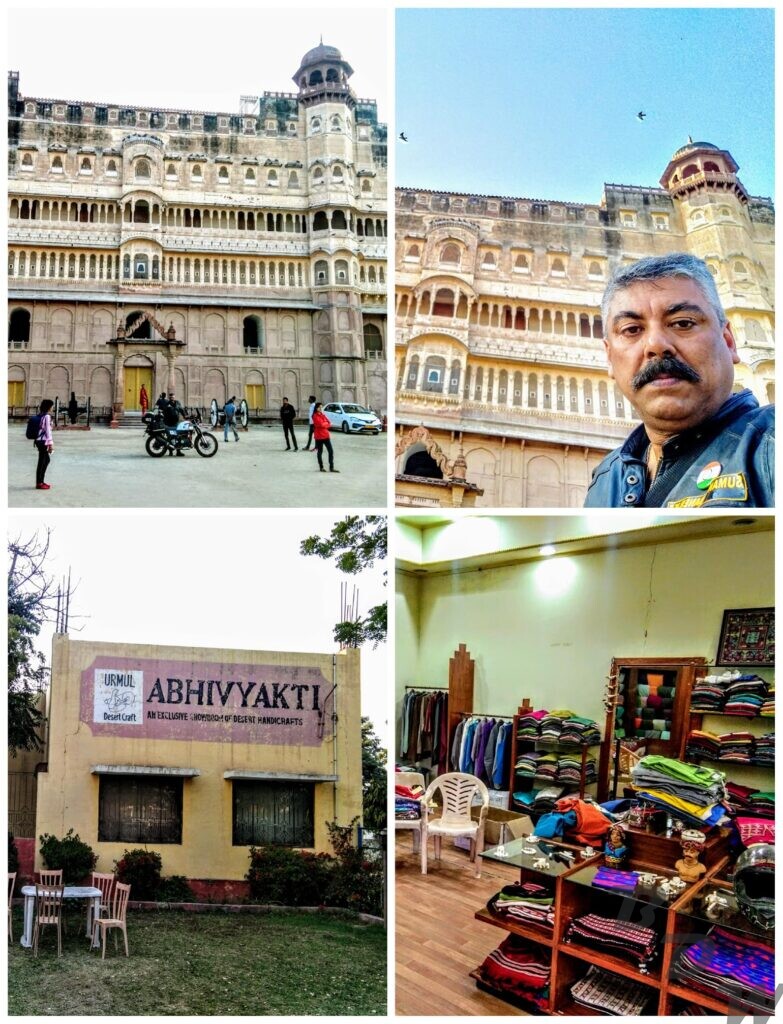 A quick breakfast break inParsneu Dham, #Churu, the #Gateway_of_Thar_Desert. So, basically leaving the arid sector and entering the semi-arid sector now. Churu is also famous for recording the #Maximum_Temperature in India, often crossing 50°C. The call of the #paratha had to be answered, its the humble #aloo_pyaaz_paratha which wins me. I like the name of the bottled water too… #Aqua_Thar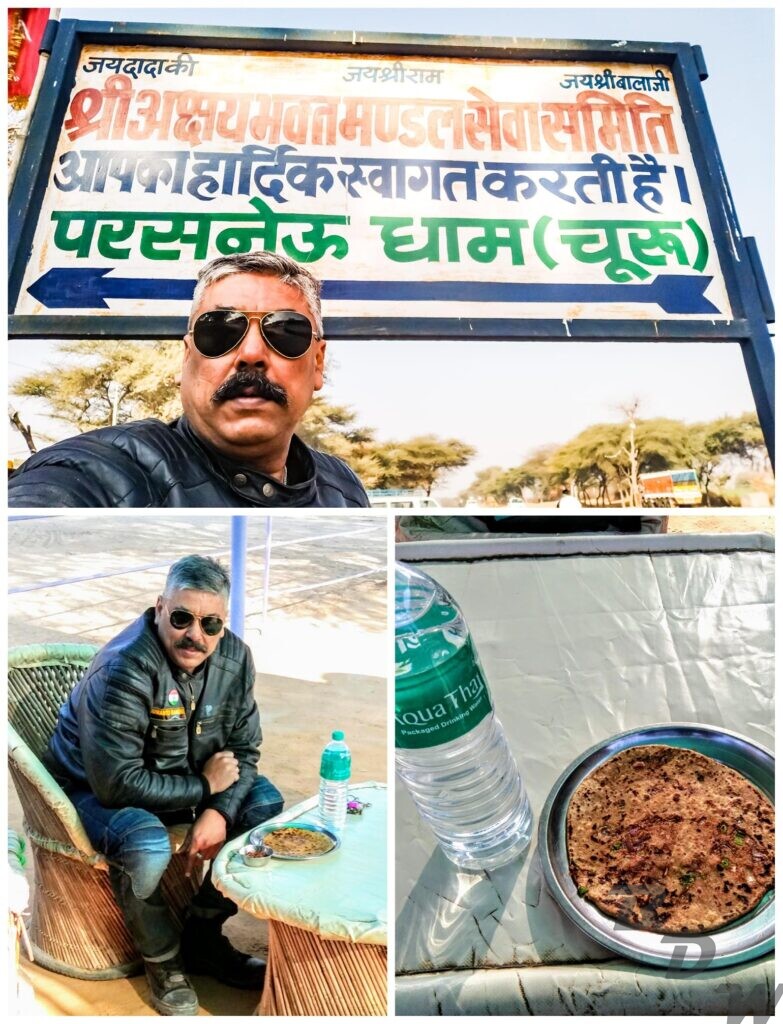 Crossed #Sikar, stopping only at such an effective #sign-post. The harmful effects of #Angreji_Sharaab with the prominent #Red_Arrow mark➤ has kept all Bikers motivated to stay and enjoy the roads.
Next stop #Home
Back #Home safely. Marwar in 5 days, 1875 km. #Endpiece_and_thoughts … In the evening.
#Endpiece_and_Thoughts. As Dada's Marwar Ride comes to an end, its worth summarising thoughts and feelings, which I have experienced. Off course, on and off comparisons with other states will feature. These are just my observations, I do not claim that they are infallible.
#Regions_Rajasthan. Rajasthan is area-wise, the Biggest state of India… With varied topography, language, culture, custom and traditions. One will fool himself or biking, if he wants to "Do Rajasthan" in 5-6 days. Rajasthan has got six distinct regions… #Dhundhar (Central -Jaipur, Tonk), #Mewar (South – Udaipur, Chittorgarh, Sirohi), #Marwar (West – Jodhpur, Bikaner, Jaisalmel, Nagaur), #Matsya (Dholpur, Bharatpur, Alwar, Mewat), #Hadauti (Bundi, Kota, Jhalawar) and #Shekhawati (Churu, Sikar, Jhunjhunu). Each region distinctly needs 4-5 days to see, understand and appreciate. If you want to understand Rajasthan, do not be in a hurry.

#Rich_Poor. Rajasthan is distinctly Richer than most states, including West-Bengal. The riches come mostly from Business (Marwari traders), massive Land-Holding (Rajputs and Traders), massive Animal Husbandry (Lower Class) and Corruption in Government Jobs (Middle and Lower Class; in fact Rajasthan is as per Govt records, one of the most corrupt states of India). Those who are NOT rich, migrate to Bengal, Bihar, Maharashtra to do trade and buy land thereby getting richer and labourers and daily wagers come from Bengal, Bihar, Assam to do the mehnati jobs here. Land Ownership Bill, stoppage of Patta, "Who tills – He owns" revolution in Bengal has given basic Economic and Social Equality to all there, that Social Equality & Justice is missing in Rajasthan.

#Upper_Lower. Caste distinction (which will naturally lead to discrimination) is a reality. Most outsiders think that Rajasthan is of Rajputs, but the fine subdivisions of Rathore, Gohila, Tomar, Panwar, Shekhawats, Naru, Kacchwaha do exist. Other than Brahmins and Rajputs, prominent castes are Jats, Vishnois, Rajpurohits, Meghawals, Meena, Bad-Gurjars, Bheel, Bheel-Meenas, Garasiya, Dhakad, Rebari, Meo and many more. Upper-Lower exists, like most parts of Gangetic India. The question does arise in my mind… Will "Vikas" truly come amidst such distinction and discrimination?? 4. #Man_Woman. Women in Rajasthan (not the modern educated ones) cover their face, do not talk to men directly. Rajasthan has one of the highest figures of rape in India. Look at states like Nagaland, Sikkim, Manipur, Arunachal Pradesh… Where women are free and equal… They have the least number of rapes. Why?? Because, in Rajasthan, Women are Respected, and in that Respect hides the Inequality. Women are not Equal to men. What more can I say??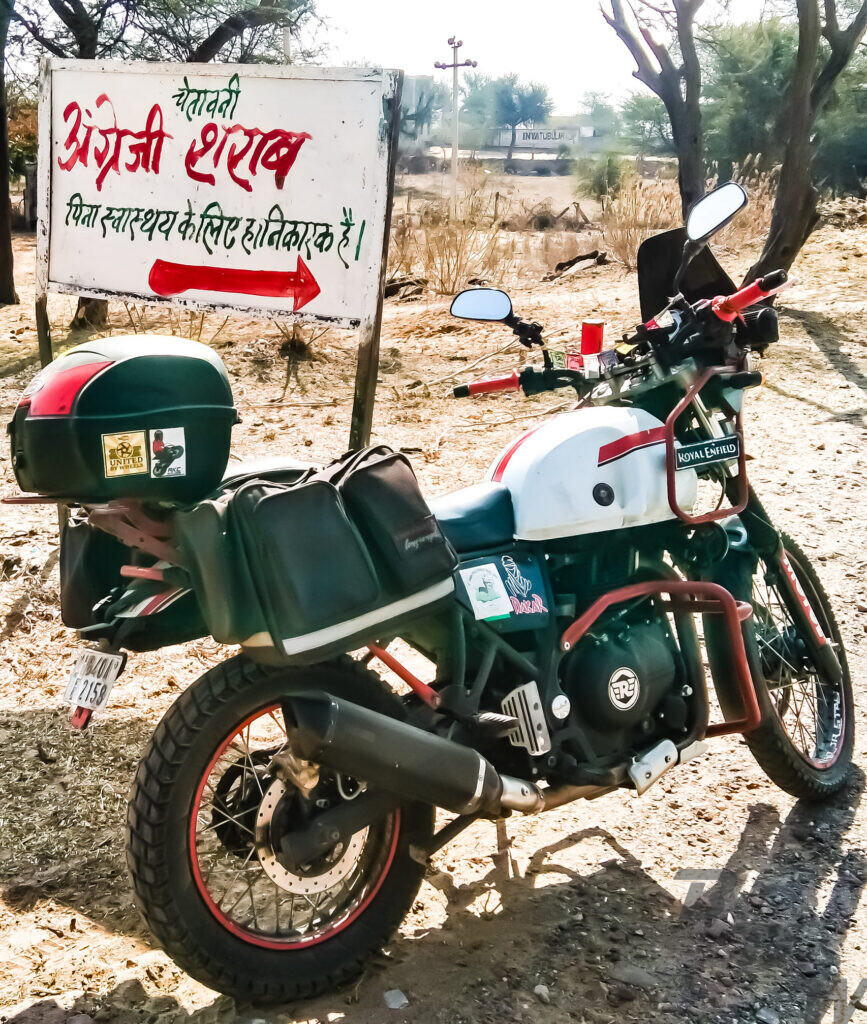 #Motorcycling… These have three basic issues :-
#Treacherous_Desert. Desert can kill man and machine. We love Dakar on livestream, but do not forget… Most don't have the skill and the motorcycle to do dune bashing. So, it's important to be aware of the strengths and weaknesses of self and the bike. Exercise regularly, hone your biking skills, spend money to keep your motorcycle in top shape.

#Dont_Denounce_Speed. Generally, a common feeling amidst the population is to denounce speed; which is fine. But the hard reality is… If you are a biker, and if you cannot travel fast for long hours… Then you cannot keep the timeline of doing distance, seeing things. So… Travel fast… But be very very cautious and take all safety precautions deemed necessary. The paradox of "Indian Road is a Killer" and "Bikers need to travel fast" will remain. Ride hard, Ride safe.

#Expenses. Rajasthan is a very expensive place. Tourism is not cheap. The erstwhile Maharajas have turned most of their places into Hotels, Museums etc. Entry, wherever allowed, is not cheap. Shopping is prohibitively expensive. So, budget your travel well.
#Who_Clicks_My_Photos. I travel solo, and every day people seem to be so curious, "Who clicks my photos?". I wish I had a secret young sexy voluptuous photographer girlfriend who would travel with me, shower me with love
, and click my photos. Unfortunately, thats just a fantasy. The reality is… I request whosoever I see… Tongawallah, farmer, autowallah, sheep rearer, another tourist, elderly amma, young boudi… To click a photo for me, and everyone has happily and beautifully done it; just that I quickly explain the frame. Please remember… Riding or Travelling is not only about you, your bike and some mountain or desert. Its also about People. Talk to people, especially the locals… Be respectful, earnest and smiling… They will respond with "Atithi Devobhava".
That's all. Thank you smart dudes and beautiful ladies for being a part of my journey. Your enthusiasm, love and comments kept me pushing. See you again #On_the_Road. #Jai_Hind.