SOLO-RIDE TO 108 SHIVA TEMPLE IN BARDHAMAN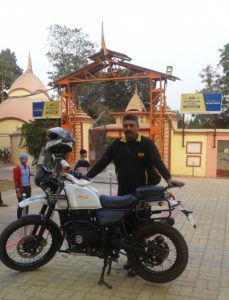 Today's solo ride on my RE Himalayan Shwet-Agni to discover more about the jewels of Bengal, was to the famous "108 SHIVA TEMPLE" in Bardhaman town. 108 km from Kolkata, as you ride along NH2, reach Bardhaman and take a right turn from the HP Petrol pump and move about a km inside to reach the Mandir Complex.
Established in 1788 by Maharani Bishan Kumari Devi of the Royal Family of Bardhaman, this is a typical example of Bengal Terracotta style of temples (the Terracotta work has been lost due to Modern renovation by the State Government in 1965). The design of the Complex is like a double tiered Rudraksh beaded necklace with two connecting ponds.
I persuaded the chairman of the mandir committee to allow me to the roof of the Guestroom building to click some pictures. I made it a point to buy a Rs 70 worth Rudraksh (has to be fake!!!) garland which I wore around my neck. A man in Black dress with moustache riding a strange motorcycle with a huge fake rudraksh garland around the neck aroused a lot of curiosity there.
Ride for knowing Bengal continues ….