SOLO-RIDE TO MAMA-BHAGNE PAHAAR (UNCLE-NEPHEW HILLOCK), BIRBHUM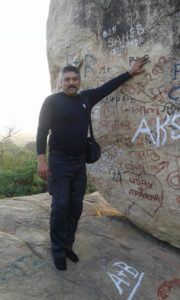 In the interesting quest of "Ride and know Bengal", today I rode on my RE Himalayan Shwet-Agni to the Mama-Bhagne Pahaar, near Dubrajpur town in Birbhum district (matter made easy, since wife and kids are taking a short holiday in Kolkata). Along the NH2 from Kolkata if you can survive the mad truckers, Blue SBSTC buses and Shyamoli Volvo, one needs to take a right turn from Panagarh on to the Panagarh –Morgram State highway and ride straight upto Ilambazaar on the River Ajay. Thereafter take a left turn on the Siuri axis and continue upto Dubrajpur town, survive the maddeningly narrow streets and traffic congestions of Dubrajpur and reach the Mama-Bhagne Complex. The Hillock is a pair of natural boulders of granite rock, both balancing precariously on the top of a hillock. The balancing of the rocks are so surprising that it has become a famous landmark in Bengal, where it is known as Mama Bhagne ( the uncle and the nephew ). The site has a number of boulders splintered across the place. It is the extreme eastern part of the Chota Nagpur Plateau where the granite is gray and composed of glassy quartz pink, gray feldspar and black mica. At the base of the rocks is a magnificient white temple of Lord Shiva, entitled Pahareswar (Lord of the Hills). As per ancient legend of Ramayana, when Lord Ramchandra decided to attack Ravan he found it necessary to build a bridge across the Palk Straits for the conveyance of his troops, he drove in his chariot to the Himalayas and picked up what stones he needed and drove back. As he was passing Dubrajpur his horses took fright and tilted up the chariot and so some stones fell out. These are the stones at Mama Bhagne. There is another legend to the effect that they were collected by Lord Viswakarma (the master artisan) at the command of Lord Shiva, to erect in one night a second Kashi. When he collected the rocks and was about to commence work day dawned and so he left. The rock formation is a thematic motif of the movie Abhijan by Satyajit Ray, where the rocks are seen as symbols of human being carrying its sin accumulated over time. Though I felt privileged to have a look at the legendry hillock, but was disappointed at the mindless desecration of nature by painting names etc on hills as evident on the photo. I am also tired of a business called PICNIC where there is a Community dirtying of a place (see photo) and mindless loud music and drunken dance (this time managed to capture a small video … do see it to laugh and feel sad at the same time).
CAN WE LEAVE NATURE AND SOME OF OUR HERITAGE FOR OUR CHILDREN ??